STEM
iSchool, LCS Coordinating Computing and IT Awards Programs for Women
Syracuse University is joining with the National Center for Women & Information Technology (NCWIT) to encourage more young women to choose an education and career in technology through a national awards program that celebrates both their achievements and their goals related to computing and IT: The NCWIT Aspirations in Computing Awards Program.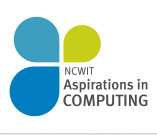 Applications are now being accepted from young women all around the country. The goal of Aspirations in Computing is to acknowledge the technical ambitions of young women, introduce them to leadership opportunities in the technology field and generate visibility for women's participation in computing-related pursuits, according to NCWIT.
Any U.S. high school-level female (grades 9-12) may apply for the awards. Applications must be submitted online at http://www.ncwit.org/award and received no later than 11:59 p.m. Eastern Standard Time Oct. 31.
In addition to the national award, young women in Upstate New York are also eligible for the Upstate NY NCWIT Aspirations in Computing Affiliate Award. Winners will be selected by the end of the 2013 fall term and celebrated at a special event on the Syracuse University campus in spring 2014.
Applicants are eligible to enter both the Upstate New York Affiliate and National award competitions. Award winners will be selected for their outstanding aptitude and interest in information technology and computing, solid leadership ability, good academic history and plans for post-secondary education.
Winners of the national awards will each receive:
• $500 in cash;
• a laptop computer to enhance their future in technology;
• engraved awards for the student and her school; and
• a trip to the national award ceremony for the award recipient and a parent/guardian.
The award package for the Upstate New York Affiliate is detailed at https://www.aspirations.org/aspirations-community/new-york-upstate-new-york.
"We learned about Aspirations in Computing though our Academic Alliance with NCWIT," notes Dori Farah, graduate recruitment manager at the School of Information Studies (iSchool). "Nationally, NCWIT has inducted more than 2,500 young women into the Aspirations program since 2007. We wanted to ensure that our own community was aware of this wonderful opportunity, so Syracuse University launched the Upstate NY Aspirations in Computing Affiliate Award last year with support from JPMorgan Chase, Microsoft, Motorola and Google. Aspirations in Computing provides the opportunity to give that extra nudge of encouragement and celebrate students we know could excel in this field."
"We are so excited to have this opportunity to partner with NCWIT to sponsor this highly visible, important event for talented young women from across the upstate New York region, one that recognizes and celebrates the next generation of female leaders in the fields of computing and information technology," says Kathleen M. Joyce, assistant dean for student recruitment at SU's L.C. Smith College of Engineering and Computer Science. "The NCWIT Aspirations in Computing Award event also allows us to showcase SU as a leader in providing outstanding opportunities and a supportive, spirited environment for women in computing and information technology."
This is the second year that the iSchool and L.C. Smith College have led participation in the Upstate New York Affiliate Award Competition. Nationally, the NCWIT Award for Aspirations in Computing is sponsored by Bank of America.
The National Center for Women & Information Technology (NCWIT) is a coalition of more than 200 prominent corporations, academic institutions, government agencies and nonprofits working to increase women's participation in information technology (IT). For more information, visit http://www.ncwit.org.