Health & Society
BE Wise Campaign Wins First Place in National SAMHSA Challenge
Syracuse University's BE Wise campaign, sponsored by the Division of Student Affairs, won first place and a prize of $60,000 in the Substance Abuse and Mental Health Services Administration (SAMHSA) Challenge. SAMHSA opened the challenge this past May to help decrease high-risk drinking among college students. The BE Wise campaign launched at the start of the spring 2013 semester as a way to generate awareness of alcohol poisoning, how to avoid it, its signs and how to respond to it.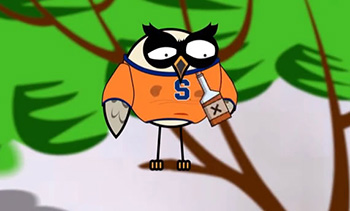 "This initiative was truly a collaborative effort involving students, faculty and staff who thought critically and creatively about a serious cultural issue that affects the health, academic performance and safety of the entire campus community," says Rebecca Dayton, associate vice president for the health and wellness portfolio of the Division of Student Affairs.
According to the latest findings from SAMHSA's national survey on drug use and health, 40.1 percent of full-time college students were binge drinkers. SAMHSA created the challenge to seek preventative solutions through cost-effective, portable, technology-based products. These products also needed to effectively reach college students and their parents, as well as administrators, faculty and staff. In addition, they had to be adaptable in order to meet the local needs of academic institutions throughout the United States.
"We wanted to create a campaign that resonated with students, so it was incredibly important that students be involved in every step of the process—from development to implementation," says Katelyn Cowen, health and wellness promotions specialist and staff coordinator for the campaign. "It's been very exciting to see such support for BE Wise across campus. We've been fortunate to have so many people helping us educate the students about these issues."
As stated in the award announcement on the SAMSHA website, "BE Wise created an interactive website designed to reduce the occurrence and negative outcomes of excessive drinking by providing students with education regarding alcohol poisoning. The website emphasizes the need for awareness of one's limits to reduce excessive consumption, knowledge of the signs of alcohol poisoning to know when to act, and familiarity with emergency numbers and responses to know how to act in a potential alcohol poisoning situation."
Twenty-nine eligible entries from colleges and universities across the country were reviewed by a panel of federal government experts who evaluated the entries on their quality of product design, quality of product performance and quality of project personnel. Each of the three finalists participated in a proof-of-concept meeting with the judges to clarify any concerns or questions raised by the review panel.
BE Wise strives to creatively engage students and equip them with the knowledge to make safer decisions, as opposed to telling students not to drink. Student Affairs has been working with the Newhouse-based student public relations firm Hill Communications, which helped craft the campaign's messaging, as well as develop the marketing and promotional strategies. Hill Communications also just received the "Best Campaign by a Student-Run Firm" for BE Wise at the 2013 National PRSSA Conference.
There are three central pillars to the BE Wise campaign: BE Real and know your limits; BE There and make the call when someone is in need of help; and BE Aware by knowing the signs of alcohol poisoning. The campaign uses the acronym C.U.P.S to remind students of the signs: cold skin, unresponsiveness, puking and slow breathing.
The second place prize of $30,000 went to the University of Central Florida's Expectancy Challenge Alcohol Literacy Curriculum (ECALC) mobile application. Third place and a prize of $10,000 went to the University of Tennessee's Alcohol and You online module.
For more information on the BE Wise campaign, visit http://www.bewise.syr.edu. Follow it on Facebook at http://www.facebook.com/BeWiseSU.
For questions, to schedule a BE Wise Training or for inquiries about integrating the campaign into existing programs and curriculum, contact subewise@syr.edu.