Whitman's Online MBA Program Ranked #14 by OnlineMBA.com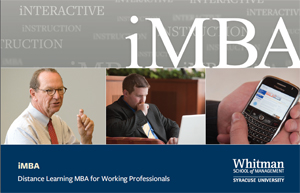 The online MBA (iMBA) program at the Martin J. Whitman School of Management has been ranked #14 by OnlineMBA.com. Earlier this year, Whitman's iMBA program was ranked #13 by Poets & Quants.
For their list of the top 20 online MBA programs, OnlineMBA editors considered only U.S.-based schools compiled from rankings publishers, including U.S. News, Financial Times, The Economist and Businessweek, and that offer an online MBA with minimal or no campus requirements. The full rankings can be found at http://www.onlinemba.com/rankings.
To calculate the rankings, OnlineMBA considered each school's total average tuition and how many publishers' lists on which the school appeared and at what rank. The full methodology can be found at http://www.onlinemba.com/rankings/ranking-methodology.
Since 1977, Whitman's iMBA program has successfully combined flexible distance learning with a collaborative community. One-week residences on-campus and abroad are combined with intense, innovative distance learning designed to expose students to key world economies and engage them in discussions that challenge their managerial perspectives and bolster the value they bring to their organizations.