Campus & Community
United Way 2013 Campaign Launches on Campus Oct. 8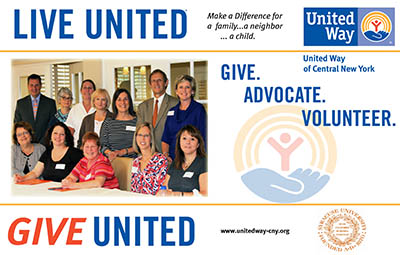 Celebrating more than three decades of support for the United Way of Central New York, Syracuse University will launch its 2013 United Way campaign Oct. 8. Pledge cards will be distributed to all employees.
Ushering in a new season of creative fundraising events across campus, the campaign runs through the end of the year.
Diane Lyden Murphy, dean of the David B. Falk College of Sport and Human Dynamics, will serve as chair of the 2013 campaign, and Bea González, dean of University College, as vice chair. They will lead a cross-campus committee of more than 15 area chairpersons and 100 volunteers who help publicize the campaign and communicate the benefits of participation.
"We are living through challenging times, and community need is a critical public issue we must all get behind and support in the ways we can. The United Way campaign represents organized community philanthropy in the very best of ways. Our goal is to broaden the campaign's donor base by inviting employees who haven't yet participated in the campaign to consider writing in a contribution in the name of their favorite charity," says Murphy.
"Knowing that each employee can designate a donation to his or her favorite nonprofit, through the United Way, supports the mission of both entities," Murphy adds. "Participation of any amount is a key message, and one that we believe will lead this campaign to record-breaking success. We hope that each employee will consider making a gift at whatever level is reasonable and meaningful to them. A dollar a week through payroll deduction yields a valuable annual gift of $52.
"Clearly many folks can and will give more. Syracuse University raised $212,000 last fall with donations from more than 700 employees. SU employs more than 4,000 people. Think of the money we could raise if more people gave. Take action now and participate in this year's campaign. Be part of the solution!"
The pledge card, with a message from Chancellor Nancy Cantor and featuring options for payroll deduction, will be sent to all faculty and staff members, followed by e-pledge emails on consecutive Thursdays, Oct. 10 through Nov. 7.
"Employees who give for the first time, or who raise their gift by a dollar per week, are automatically entered into the United Way's Step Up Challenge program, which awards daily prizes, such as $100 gift cards to restaurants, spas, jewelry stores and more," says Peg Northrup, campaign coordinator.
The United Way supports 35 local agencies and funds 95 programs locally. Giving to the United Way means donations are reinvested in the community, funding agencies that have met criteria for financial management and stewardship of donor dollars. The United Way administers designated gifts to tax-exempt 501(c)(3) organizations in New York State.
For more information about the campaign, contact the Office of Government and Community Relations at 443-3919. And for more information about the United Way, its funded agencies, and its impact on the community, visit its website at http://unitedway-cny.org.