Campus & Community
Learn More About Diversity of Life Through One-Credit Workshop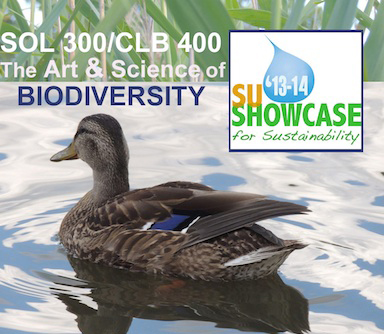 A unique, hands-on workshop planned this fall will give students the opportunity to learn more about the diversity of life around the SU campus.
In "The Art and Science of Biodiversity" (SOL 300/CLB 400), an artist and a biologist will lead field trips to local woods and streams, where students will document the variety of species in hand-made field journals.
Lessons on biodiversity, journal-making, identifying communities of species and general concepts of sustainability will round out the one-credit workshop, which is presented by the SU Showcase for Sustainability.
The workshop will meet on Sunday, Oct. 6, from 7-9 p.m. in 440 Smith Hall for a film and discussion on biodiversity. Additional class times are Friday, Oct. 11, from 7-9 p.m.; Saturday, Oct. 12, from 9 a.m. to 5 p.m. and Sunday, Oct. 13, from 10 a.m. to 2 p.m.
Registration is open now. Contact Rachel May at sumay@syr.edu for more information.