Campus & Community
Hendricks Chapel Will Offer Opportunity for Reflection on 9/11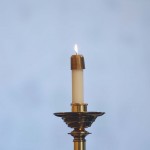 Hendricks Chapel will offer the Syracuse University community an opportunity for quiet reflection on Wednesday, Sept. 11, the 12th anniversary of the Sept. 11, 2001, terrorist attacks.
The Small Chapel, located on the lower level of Hendricks, will be open from 9 a.m. to 5 p.m. for prayer and meditation in remembrance of those who were affected by the tragedy.
Call Hendricks Chapel at 443-2901 for more information.