Campus & Community
Free parking, public transportation available for Haudenosaunee Wooden Stick Lacrosse Expo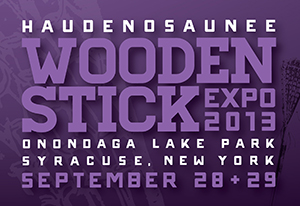 Last-minute preparations are being made for the first annual Haudenosaunee Wooden Stick Lacrosse Expo, taking place this weekend at Onondaga Lake Park in Liverpool, N.Y. The expo runs Saturday, Sept. 28, from 8:30 a.m. to 5 p.m., and Sunday, Sept. 29, from 9 a.m. to 5 p.m. The event is free and open to the public. For more information, including schedule updates, visit http://www.facebook.com/woodenstickexpo or call 315-428-1864, ext. 314.
Parking for the expo is free and available at Onondaga Lake Park. Public transportation is available through the Centro bus service, using the Liverpool Morgan Road Bus No. 48 from Downtown Syracuse to the Village of Liverpool, stopping at Cypress and First streets and walking down Lake Drive to the expo. See http://www.centro.org for more information.
The Haudenosaunee Wooden Stick Lacrosse Expo features a variety of events, celebrating the history and legacy of lacrosse as it was played in Central New York more than a thousand years ago. The weekend includes games played with traditional wooden sticks and handmade leather balls; stick-making demonstrations; talks by lacrosse legends Roy Simmons Jr. and Oren R. Lyons '58, H'93; clinic presentations by members of the Iroquois Nationals and Onondaga Redhawks; and Native foods, crafts and social dancing.
The expo is sponsored by the Onondaga Nation, Syracuse University's Office of the Chancellor, SU Athletics, the Onondaga Historical Society, and the Skä·noñh–Great Law of Peace Center.