Veterans
Alumni Welcomed Back to Campus for Orange Central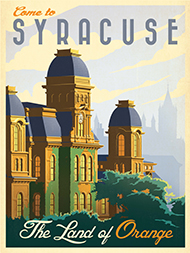 Syracuse University students will get the celebration going early in the week, and alumni from around the world will be welcomed back to campus Oct. 3-6 for Orange Central 2013.
This year's Orange Central celebration features events for alumni, current students, faculty, staff and the entire community. Free parking will be available at many locations around campus.
Special reunions will be held for Class of 1963 (50th reunion), Class of 1988 (25th reunion), Alumni Spirit (including cheerleading, Otto and dance team), Marching Band, LGBTQ, OrangeSeeds, Mt. Olympus, SU Abroad, Honors Program, Generation Orange, Hendricks Chapel Choir, SU Men's Hockey, Women's Field Hockey and Office of Residence Life.
Orange Central will also include a football game on Saturday vs. Clemson, SU's inaugural ACC game in the Carrier Dome. Game time is 3:30 p.m.
The co-chairs for this year's Orange Central are actor Jay Harrington '93 (VPA) and Bea González G'04, dean of University College.
Register for Orange Central at http://orangecentral.syr.edu. For questions, contact the Office of Alumni Relations at 1-800-SUALUMS (782-5867) or email orangecentral@syr.edu.
Orange Central 2013 is the perfect time for students to show their Orange pride. Students can enjoy a week filled with SU traditions hosted by the Traditions Commission, with free food, T-shirts, prizes and more. Otto is already getting pumped for the big game against the Clemson Tigers. Watch how Otto plans to "Tame the Tiger" at http://www.youtube.com/watch?v=2zSIZP6eQRg.
On Thursday, Oct. 3, the LGBTQ Resource Center will sponsor a screening of the GLAAD Media Award-nominated documentary "Codebreaker" at 7 p.m. in Hergenhan Auditorium in Newhouse 3. The screening is free and open to the public.
Also on Thursday, University Union will present a concert featuring Twenty One Pilots—named an MTV "Artist to Watch"—at 7:30 p.m. in Goldstein Auditorium in the Hildegarde and J. Myer Schine Student Center. Tickets are $10 for students with SU I.D. and $12 for alumni and are available at the Schine Box Office and online at orangecentral.syr.edu.
Students are also organizing the Orange Central Parade and Pep Rally, which steps off from the front of the Schine Student Center at 5:30 p.m. on Friday, Oct. 4 (lineup begins at 4:45 p.m.). The parade travels throughout the University area and travels back to the Kenneth A. Shaw Quad. The pep rally will immediately follow on the steps of Hendricks Chapel (rain location is inside Hendricks) and will include the announcement of the Homecoming King and Queen, and Greek House decorating and parade banner winners.
For a complete listing of student events, visit http://studentactivities.syr.edu/traditions/orange-central.html.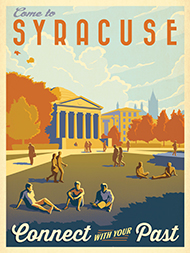 The vintage travel illustrations created for this year's Orange Central are available as a series of four 18" x 24" posters that capture all the beauty and excitement of the Syracuse University campus. Posters are $10 each or $35 for the complete set. They are on sale now at the SU Bookstore or online at http://bookstore.syr.edu.
In addition to special reunions, highlights of Orange Central include:
The Erie Canal and Its Engineering History, Featuring Professor Sam Clemence
Friday, Oct. 4, 9 a.m.
107 Hall of Languages
Come experience one of the greatest stories of American technology, the engineering achievements of the Erie Canal. After its opening in 1825, the impact of the canal was extraordinary on the State of New York and the United States. Because of the Erie Canal, Upstate New York became the equivalent of today's Silicon Valley. Registration is required for this event at http://orangecentral.syr.edu.
Continuing the Legacy: Syracuse University's Commitment to Veterans
Friday, Oct. 4, 9 a.m.
Lender Auditorium, Whitman School of Management
The Institute for Veterans and Military Families (IVMF) invites you to come and listen to SU military veterans. Hear how SU tripled in size between 1945 and 1947 as the "Greatest Generation" flooded the campus after the end of World War II. Find out what's happening on campus and around the country to continue that legacy today. Following the panel, the IVMF invites you to join them for an Open House at 700 University Ave., Suite 303, from 10 a.m.-noon. Registration is required for this event at http://orangecentral.syr.edu.
A Conversation with George Saunders G'88
Friday, Oct. 4, 9:30 a.m.
Hergenhan Auditorium, Newhouse 3.
Saunders, a professor in The College of Arts and Sciences and renowned author whose 2013 Convocation address recently went viral, will discuss the creative process and his teaching.
Arents Award Luncheon
Friday, Oct. 4, 11:30 a.m.
Schine Student Center, Goldstein Auditorium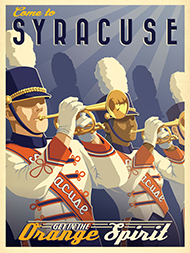 This luncheon celebrates all returning alumni and honors recipients of the George Arents Award, Syracuse University's highest alumni honor. Watch as this year's recipients—Taye Diggs '93, Carole Swid Eisner '58, Henry Grethel '54, Sid Lerner '53, and George Saunders G'88—are recognized for being leaders in their fields. Tickets are $25 per person, and balcony seating is available for students for the award portion of the event. Reservations for the luncheon are required; visit http://orangecentral.syr.edu.
IDEA Juicer
Friday, Oct. 4, 2 p.m.
207 Hall of Languages
Watch students put their ideas on the table and duke it out in Syracuse's own shark tank. As a member of the audience, you'll find out what it takes to compete for startup funding and how RvD IDEA helps students explore entrepreneurship at SU. Then network with entrepreneurial students and alumni.
The Legacy of Pan Am 103 at SU
Friday, Oct. 4, 3-4:30 p.m.
Watson Theater
On Dec. 21, 1988, Pan Am Flight 103 was blown up en route from London to New York. Among the 270 killed were 35 students studying abroad through Syracuse University. The effects of this tragedy were felt across campus and remain part of campus life today. A panel moderated by Cara A. Howe, assistant archivist for the Pan Am Flight 103 Archives, will discuss the legacy Pan Am 103 has created at Syracuse University.
Cooking with David Shalleck '83
Friday, Oct. 4, 3-5 p.m.
304 Schine Student Center
Shalleck returns to Syracuse for an exclusive cooking demonstration and book signing. An alumnus of the College of Visual and Performing Arts, Shalleck has worked as a chef and culinary television producer for more than 20 years. He has cooked in renowned restaurants and for exclusive events in New York, San Francisco, the Napa and Sonoma valleys, many of Italy's famous regions and in conjunction with the finest cruise lines. His most recent television credits include producing the PBS series "More Fast Food My Way" with Jacques Pépin, "José Made in Spain" with José Andrés and the Food Network's "Iron Chef America" with chef Cat Cora. Shalleck's award-winning book "Mediterranean Summer" will be available for purchase and signing following the demonstration. Registration is required for this event at http://orangecentral.syr.edu.
Disability Cultural Center Open House
Friday, Oct. 4, 5–7 p.m.
105, 106 and 108 Hoople Building

Join the staff of the Disability Cultural Center (DCC) as they host an Open House. You will enjoy entertaining conversations, an inclusive menu and learn more about their services, advocacy and programming. SU's Disability Cultural Center is a first of its kind in the world. An American Sign Language interpretation will be provided.
Melvin A. Eggers Senior Alumni Dinner
Friday, Oct. 4, 5-8 p.m.
Sheraton Syracuse University Hotel and Conference Center
This special dinner is for alumni who have already celebrated their 50th reunion and includes the presentation of the Melvin A. Eggers Senior Alumni Award. This year's recipient is Don Hornung '53. Cocktails are at 5 p.m.; award presentation and dinner will be at 6 p.m. Tickets are $30 per person. Registration is required for this event at http://orangecentral.syr.edu.
'Cuse Brew and Barbecue
Friday, Oct. 4, 6-9 p.m.
Kenneth A. Shaw Quad
Alumni, faculty and staff are invited to enjoy an evening of friendship, delicious food from Dinosuar BBQ, microbrews from Empire Brewing Co. and the great music of Letizia and the Z Band. Admission is $10 per person.
An Evening with Brian Dennehy
Friday, Oct. 4, 7:30 p.m.
Hergenhan Auditorium, Newhouse 3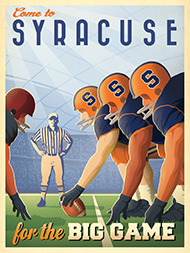 In a career that has spanned more than 35 years, award-winning actor Brian Dennehy has had memorable roles in films including "Cocoon," "Silverado," "F/X," "Presumed Innocent" and "Tommy Boy," and on stage in "Death of a Salesman" and "Long Day's Journey Into Night." He was awarded a Tony Award in 1999 and in 2003 for these stage performances and maintains a full schedule as an actor on stage, screen and television. In an interview with Tim Bond, artistic director of Syracuse Stage, he will share stories from his prolific career and will entertain us in an evening of recollection, readings and performance.
DanceWorks Presents: Journey Abroad, Sponsored by Traditions Commission
Friday, Oct. 4, 8 p.m.
Goldstein Auditorium, Schine Student Center
This event features performances by talented student groups. Tickets are $3 for students with SU I.D., $5 faculty/staff/alumni and $7 for the general public and are available at the Schine Box Office.
Behind the Scenes at Setnor: Chimes Tour and Organ Demonstration
Saturday, Oct. 5, 9 and 10 a.m.
Meet at 301 Crouse College
Lutheran Campus Ministry and United Methodist Ecumenical Campus Ministry
Joint Worship Service (celebrating Lutheran Campus Ministry's 100th anniversary)
Sunday, Oct. 6, 11 a.m.
Hendricks Chapel
A reception will follow in Hendricks Chapel.
For more information on all Orange Central events, visit http://orangecentral.syr.edu.