SU's 11th Annual Syracuse Entrepreneur's Bootcamp Begins Oct. 19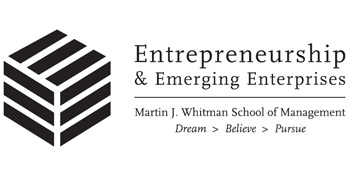 SU's annual Entrepreneur's Bootcamp, now in its 11th year, begins Oct. 19 and runs for six consecutive Saturdays through Nov. 23. The bootcamp, led by the Falcone Center for Entrepreneurship in the Whitman School of Management, assists new business owners, or those with a dream or idea, in developing the skills necessary to take their idea or existing venture to the next level.
Bootcamp classes are taught by a team of award-winning SU professors and feature guest entrepreneurs sharing stories of challenges and triumphs along their entrepreneurial journey. Topics to be covered include business planning, marketing on a shoestring budget, financing a business, operations, accounting, human resources and legal issues. Throughout the program, Whitman M.B.A. students provide one-on-one mentoring and coaching.
"Having the support of the bootcamp has given me the skills to follow my dreams and helped to bring my business from DBA to incorporation, and ultimately not-for-profit 501(c)3 status," says 2011 participant Lisa Paul, founder of Cope with Stroke Inc. "I have learned so much—the knowledge, support and friendship has carried over to my business and has taken my motivation to a higher level: to dream, believe, pursue."
Since the program's inception, more than 500 local entrepreneurs have been trained through the program, many of whom are operating successful businesses today.
"The program is also a valuable tool for aspiring individuals within a company who wish to grow their career by injecting an entrepreneur's spirit within their company structure and become an 'intrapreneur' that can make a difference in their organization's success," says Terry Brown, executive director of the Falcone Center. "The Bootcamp helps entrepreneurs grow their companies, in turn adding value to CNY by creating new jobs, fostering innovation, inspiring others to pursue entrepreneurship and contributing to the improvement of our local and national economy."
The bootcamp will be held at the Whitman School of Management, 721 University Ave. Tuition for the six-week program is $675, with a limited number of $200 scholarships available to qualified applicants. Sessions take place from 8:30 a.m. to 1 p.m. Space is limited. For more information, contact Lindsay Wickham, Falcone Center events and communications manager, at 315-443-3550 or lwickham@syr.edu.
The bootcamp is made possible by the support of the Whitman School of Management, Bond Schoeneck & King PLLC, and the Central New York Business Journal.