Arts & Culture
Stage Will Hold Second Round of Youth Auditions for 'A Christmas Carol' Sept. 13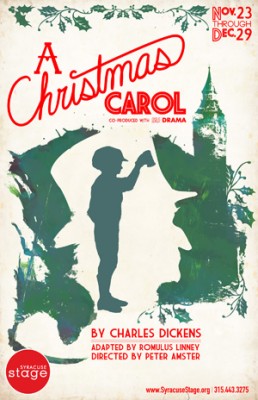 Syracuse Stage is holding a second round of youth auditions for boys and girls ages 6-13 for eight roles in the 2013 holiday show "A Christmas Carol." Youth auditions will take place on Friday, Sept. 13, from 3-6 p.m. To schedule an audition,  contact Chris Botek at 315-443-4008. Children who auditioned in May should not re-audition.
Those auditioning should prepare a short (one-minute) monologue or speech. All actors must try a British accent. Actors may be asked to sing a portion of a traditional Christmas carol. Actors should appear to be the ages of the characters as described below. Children from diverse cultural backgrounds are encouraged to audition, and older actors who look younger are encouraged to audition.
Those cast must be available for all rehearsals (Oct. 22—Nov. 22) and performances (Nov. 23—Dec. 29), and must be age 13 or younger through Dec. 29.
Adapted by acclaimed playwright Romulus Linney, this new-to-Syracuse version of "A Christmas Carol" stays close to Dickens' original story, offering a magical journey through Christmas past, present and future in a show that embodies the peace, goodwill and joy of the holiday season. "A Christmas Carol" will be a co-production with SU's Department of Drama.
ROLES TO BE CAST
BOYS
Orson/Ignorance (8): "Orson" is a rambunctious schoolboy. "Ignorance" is small, ragged and frightened. He does not speak.
Peter (12-13): Proud, good and dependable.
Scrooge as a Boy/Boy who Carols (8): "Scrooge as a Boy" is sad; his soul turned inward. "Boy who Carols" is open, brave, sweet-faced and has a musical soul; he sings. Actor must be able to create two different characters.
Tiny Tim (6-7): A sweet, big-hearted, small-statured, optimistic little boy. He walks with the aid of a crutch.
Valentine (8): A rambunctious schoolboy.
GIRLS
Belinda (13): Good, helpful and full of caring.
Gillian/Want (8): "Gillian" is kind and finds wonder in things big and small. "Want" is a dirty and ragged little girl. She does not speak.
Miranda (6): Playful and bright.