Orientation Prepares College of Law Students for Next Three Years and Beyond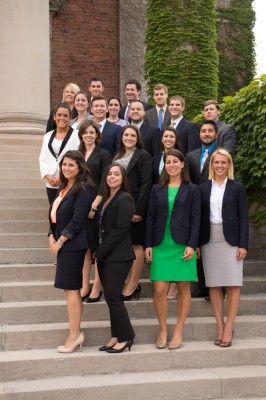 From the start, College of Law students should understand the orientation program they're about to take part in is unlike any other. All they need to do is look at the suggested attire for the weeklong event beginning on August 19th: everything from a suit and tie or black pumps to clothing you would wear on a farm.
Before they immerse themselves in legal casework and countless hours in the library, students will first be harvesting fresh produce for the local food bank.
"The practice of law is a societal good. It is about serving clients and the community," says Tomás Gonzalez L'05, senior assistant dean for student life. "What more important way can our students become engaged in that ideal than to have an impact on those in need in our community with something as basic as having food to eat."
Gonzalez is part of a student orientation program that he describes as "among the most comprehensive in the country."
Gonzalez goes on to explain that New York State is the first to require 50 hours of pro bono (free) work for admittance into the bar. "We're getting them into the mindset of giving back," he says.
The orientation program itself unfolds over the course of five days and is not only an introduction to what students will face during their academic journey, but their professional career as well.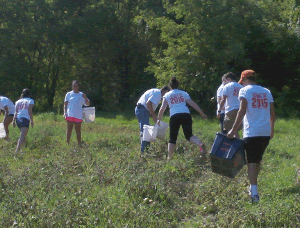 "We don't just look at the competitive needs of the market," says Gonzalez, "but we look at the needs of the students as well. Speaking skills, presentation skills, we start right from orientation. Often, how they approach work will have a direct effect on their opportunity for employment." Whether it's their academic or professional life, or how they manage their online reputation, all are addressed during orientation.
A big component of orientation includes access to a network of alumni who serve as student mentors. Students meet with alumni in small group settings. There are a couple of reasons for this. First, working in small groups helps them with problem-solving skills. "With law, every situation is different, and there is plenty of ambiguity," Gonzalez says. Getting them to realize this is the case, and that you need to apply law to facts, and facts to law, gets them thinking about this from an early stage.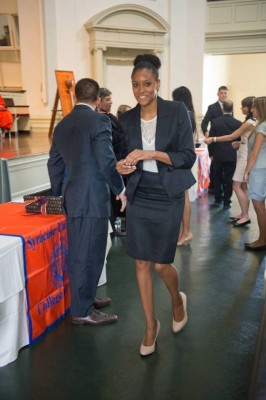 It also gives them something else—a role model.
"Meeting with alumni gives students firsthand knowledge about trends in the marketplace, or about working in certain areas of law. Just as importantly, it gets students into the habit of talking to those who are in the legal profession, and the key is that it starts at orientation, not three years down the road," Gonzalez says. Students develop skills in building professional relationships long before they enter the working world.
Of course, a big part of orientation is getting students prepared for the rigors of the coursework and classes. But for students, some of the value is in getting to know other students who are just like them. Or, who are completely different.
For Alexandra Sandacz L'15, "the most memorable part of orientation was spending the week with incoming students just like myself." Sandacz came to Syracuse not knowing anyone. By the time the week was done, she had forged close friendships. "Orientation allows students to be put together in similar situations in close places where they get to know one another and bond. Some incoming students are quite shy and nervous. However, when put in similar situations, students bond with one another," she says.
Sandacz explains that she was fortunate enough to attend orientation first as an incoming student, and then as a mentor.
"What students don't know and sometimes don't realize is the week is more than just learning about law school," says Sandacz. "Students become acquainted with the law school, their surroundings, their peers, their professors and the entire SU campus. Orientation week is a full week for them to get to know the entirety of their law school and to prepare themselves so they do not need to become adjusted at the same time as starting classes."
While much of the week focuses on college and the career life afterwards, there are also breaks for a picnic with faculty and staff, and a Syracuse Chiefs baseball game too.
But above all else, Sandacz says orientation gives students a sense of community, which she calls an extension of the College of Law's Office of Student Life, where she currently works. Sandacz says the office is there for whatever an incoming student may need, whether help with classes, their home life, advice, special accommodations or "even just a friend."
For more information or to join the social media conversation, follow #SULawWelcome.