Media, Law & Policy
HBO Documentary on Marty Glickman '39 Premieres in New York City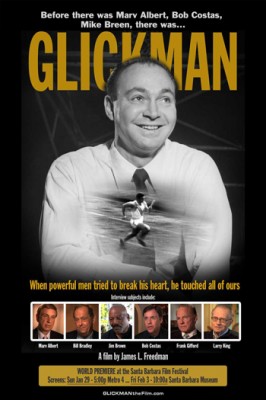 An HBO documentary set to premiere Saturday, Aug. 24, will thrust Syracuse University into the national spotlight for all the right reasons, all due to a very talented man.
Marty Glickman '39 was many things to many people: the voice of their favorite sporting events and teams, including the New York Knicks, Giants and Jets, and a mentor to a generation of younger broadcasters, including Bob Costas '74 and Marv Albert '63.
To Jim Freedman, Glickman was gold.
"I worked for Marty Glickman," Freedman says. "I was 17, and watched him produce and deliver sports news and talk at WNEW in New York." Freedman, who landed a job helping Glickman run the show, remembers how Glickman "never treated me like a kid, and that gave me professional confidence."
Freedman took that confidence, along with nearly 70 years worth of archival footage, to craft a compelling biography of the many-layered persona Glickman offered his audience.
As a young man from New York City, Glickman was quick, a lightning-fast runner who earned the nickname the Flatbush Flash. He came to Syracuse University in 1935, during which time he was part of the U.S. Olympic track team that competed in Berlin in front of Hitler, and featured Jesse Owens. For Glickman it was also a bitter experience, as he was bypassed to take part, in what many say was an act of anti-Semitism.
Glickman's story is well known at SU, which provided a portion of the archival footage used in the story. Some of what we hear from Glickman comes from the 1998 Arents Awards tribute video with which he was honored (Glickman died in 2001). Freedman gave credit to the Electronic Media Communications office run by Stu Lisson, who Freedman said "helped get great interviews with Albert, Costas, Jim Brown and Jerry Stiller, who are all SU alum."
The documentary features clear and crisp black and white film footage from Glickman on the SU campus and during football games at Archbold Stadium. Lisson praises Freedman's drive and vision in bringing the project to fruition. "Jim moved heaven and earth to get Marty's story to the screen. He even serves as the narrator, giving the documentary a true auteur look and feel," Lisson says.
The documentary is set to premier Aug. 24 in New York city as part of a gala being co-hosted by the S.I Newhouse School of Public Communications and HBO. It will make its HBO debut on Monday, Aug. 26.
"The event will serve to launch the Newhouse Sports Media Center," according to Wendy Loughlin, director of communications and media relations at the Newhouse School. "We'll be presenting the Marty Glickman Award for Leadership in Sports Media, which will become an annual award." (This year the award will be presented to Bob Costas.)
The event will also feature a roundtable discussion, "Memories of Marty," featuring Costas, Albert and Freedman. All for the man who is as synonymous with sports broadcasting as the word "swish" is to basketball. It was a word Glickman invented to paint a mental portrait of the game to help his radio listeners better understand. They did. And loved him for it.
Make no mistake, Glickman also loved Syracuse University. Freedman recalls one story from Glickman about visiting during a class reunion, and remembering the good times he had at SU, even in his spartan living space in a campus gym. Freedman says Glickman didn't mind, because he could play sports all night long. In Freedman's opinion this says much about the man and the legend who got his start on the SU Hill.