Feel the Heat
Imagine waking up in a sleepy haze and finding yourself in the middle of a smoke-filled room. It's hard to breathe, hard to see, and even worse, this is not your house but your college residence hall, a place you're not entirely familiar with. At this moment something in the building is on fire, and you have only minutes to escape.
That scenario will be faced by 180 resident directors and advisors later this summer. They'll have a chance to see what it's like when a residence hall room burns, and learn how to get out of a smoke-filled building safely, and lead others to safety too. It's part of the Residence Life Fire Safety Academy to be held on the Syracuse University campus Aug. 14.
"This will be the eighth year we've held the academy," says John Rossiter, safety manager with Environmental Health and Safety Services. "We hope to help the students learn by putting them through real-life situations and providing hands-on training.
The Residence Life Fire Safety Academy was created in the wake of a dorm fire at Seton Hall University in 2000. Three students died and many more were hospitalized. In response, then-New York Gov. George Pataki created a task force to look into college residence hall fire safety. One of the recommendations was fire safety training for resident directors and advisors.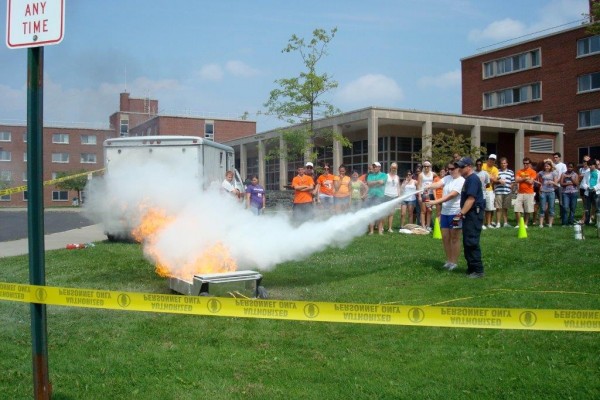 SU's Residence Life Fire Safety Academy was created by Environmental Health and Safety Services and the Office of Residence Life. "We divide the resident directors and assistants into smaller groups and put them through a variety of training modules," says Rossiter.
"The training modules will consist of navigating through a smoke-filled hallway, observing a sprinkler head extinguishing a fire, utilizing a fire extinguisher to extinguish a small fire, participating in classroom discussion on University fire safety policies and identifying fire safety hazards in a residence hall room," says Dave Pajak, the University's director of risk management.
Perhaps the highlight of the training exercise will be the burn rooms that will be constructed on top of Mount Olympus between Flint and Day Halls. These are mock-ups of actual residence hall rooms that will be set ablaze, allowing the resident directors and advisors a chance to see how quickly a fire can spread. The rooms will be filled with the types of items you would find in typical residence hall rooms that could potentially provide fuel for the fire.
As any emergency responder knows, training like this can't come without partnerships, and the University has forged good working relationships with both the Syracuse City Fire Department and the New York State Office of Fire Prevention and Control, which provides the sprinkler room demonstration. FIXit crews play a big role, too, in constructing the demonstration rooms that are critical to the training exercise.
The bottom line is making the training as real as possible, so students can see, feel and taste what it's like when fire breaks out inside a residence hall room. "It gives them more of a hands-on and real-life experience than sitting in a classroom listening to a lecture on fire safety," says Rossiter.
This type of training could one day help them save their own lives or the lives of others.