Veterans
Veterans Jobs Event Thursday at Goldstein Student Center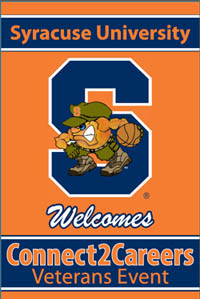 Syracuse University's Office of Human Resources is partnering with Easter Seals and Fedcap, a nonprofit agency that helps people overcome barriers to employment, to connect veterans with local employers at a campus event Thursday, June 6, at the Goldstein Student Center. All veterans are welcome.
Registration begins at 8:30 a.m., and the event runs until 1 p.m.
Connect2Careers is a Fedcap program designed to bring together veterans and businesses from a wide variety of sectors who want to employ a well-trained, disciplined workforce.
Connect2Careers events are modeled on speed-dating, but in this case, veterans sit down for 15-minute face-to-face meetings with employers, and then move to another one when the whistle blows. There are typically six "speed rounds" per event, after which participants are encouraged to meet for follow-up discussions.
"It's a lot different from your typical job fair, where people visit tables, pass their resumes out, and move on," says Fedcap's Phillip Daniels. "Our events tend to be a little more intimate, where you sit down and interface with someone for 15 minutes, then, at the end, you can go back and have a longer conversation."
All veterans are welcome to participate in Connect2Careers events. There is no charge. Fedcap doesn't charge for any of its services, which include job readiness training, developing interviewing skills, exploration of career paths and resume preparation. "The challenge for military people, especially longtime military people, is they have some great skills, but it's difficult for an employer to translate those skills to a civilian job," Daniels says. "We can help with that."
The Connect2Careers event at SU begins with breakfast and registration, and continues with "speed rounds" from 9:30-11:30 a.m., then networking from 11:30 a.m. to 12:30 p.m.. Daniels expects 20-25 employers on hand, including SU, National Grid, PEACE Inc., TSA, Bristol-Myers Squibb, Wegmans, Upstate Medical Center and Bank of New York Mellon, which provided a grant to Fedcap and Easter Seals to fund Connect2Careers events for veterans.
"We placed 10 veterans in jobs over the past 30 days," Daniels says. He expects 100 or so veterans to attend the Goldstein event. "Walk-ups are definitely welcome."
For more information, contact Tom Grigson (Easter Seals) at 315-200-9752, or Daniels at 646-568-0992.