Vera House Honors Syracuse University Students with Special Appreciation Award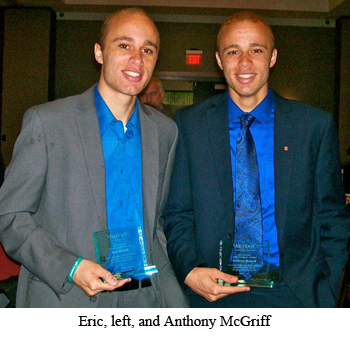 Two Syracuse University sophomore students, Eric and Anthony McGriff, twin brothers in The College of Arts and Sciences, were among a group of honorees who were presented with the Special Appreciation Award at the Vera House Annual Recognition and Celebration Luncheon on June 6 at the DoubleTree Hotel. Vera House's Special Appreciation Awards are given to people who embrace the mission of Vera House throughout the year.
The McGriffs were both honored with this award for their commitment to violence prevention. They began helping out at Vera House while in high school as active volunteers in Cicero-North Syracuse High School's White Ribbon Campaign, as well as volunteering to play cello and violin at many Vera House events.
As student leaders on the SU campus, the McGriffs have been engaged with The Advocacy Center since their first year. The Advocacy Center provides a confidential, caring space for SU and SUNY-ESF students who have been impacted by sexual, relationship and other forms of interpersonal violence. The center provides support and ongoing advocacy for students, and also coordinates comprehensive sexual and relationship violence prevention programs. The McGriffs are involved in several peer programs within the Advocacy Center, such as Sex Esteem and the Take Back the Night Planning Committee, and they are also both Mentors in Violence Prevention peer facilitators. In addition, they are members of A Men's Issue, a student organization that is affiliated with the Advocacy Center. The McGriffs have spoken publicly on the topic of violence prevention at many events both on and off campus. They are also very active in their church, engaging with youth in violence prevention.
Vera House, Inc., aims to end all domestic and sexual violence; to assist families in crisis; to support those affected by domestic and sexual violence to live safe, self-sufficient lives; to empower women and children; and to promote a culture of equality and respect in all relationships. A list of the rest of the Special Appreciation Award recipients can be found here.