University Community Harvest Farmers' Market to Be Held Friday at Strawberry Festival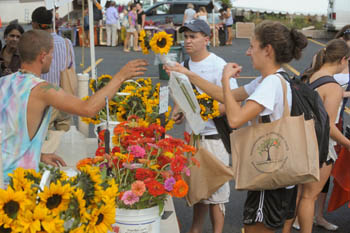 Parking will be limited by construction
Are you craving fresh fruits and vegetables, looking for flowers to brighten up your home or searching for a unique handmade item? Look no farther than the University Community Harvest Farmers' Markets.
The seventh annual University Community Harvest Farmers' Market series will kick off on Friday, June 14, from 10 a.m.-2 p.m., during SU's Strawberry Festival on the Kenneth A. Shaw Quad.
Due to construction in and around campus, those attending the Farmer's Market, Strawberry Run and Strawberry Festival will find parking with any valid SU permit in the Irving Garage, University Avenue Garage and Booth Garage. Parking will not be valid in any of the Quad lots for these events.
Presented by Syracuse University and the SUNY College of Environmental Science and Forestry and open to the public, this year's markets will feature a variety of locally grown fruits, vegetables and plants; snacks; condiments; locally made crafts and other handmade items. There will also be educational literature on healthy eating, sustainable practices and organic farming.
The market season will continue in the fall semester, with a market planned on Friday, Sept. 6, in conjunction with the Apple Festival.
The University Community Harvest Farmers' Markets began as a pilot project in 2007.
For more information, call 315-443-3608.