Syracuse University Chancellor and President Nancy Cantor Named Chancellor of Rutgers University-Newark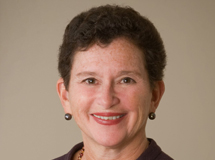 At a meeting today of the Rutgers University Board of Governors, Rutgers President Robert L. Barchi named Chancellor Nancy Cantor as the new chancellor of Rutgers University-Newark. Cantor, who last fall announced upcoming plans to conclude her tenure at SU, will begin her new role at Rutgers-Newark in January 2014.
"Words cannot express how profoundly grateful I am for having the privilege to lead SU for nearly a decade, to be a partner with so many throughout Central New York and across the nation, and to forge so many friendships that will never fade. It has been tremendously rewarding to think, learn and problem-solve with the Syracuse community—all of which I will draw upon as I prepare to take this next step," says Cantor. "Rutgers-Newark is a gem of a research university that is creating innovation; engaging in public scholarship; enrolling first-generation students of all ethnic, religious, linguistic and cultural backgrounds; and partnering to make a difference in a remarkably resilient city where the global becomes local, and the future is being charted. I am excited by the opportunity to lead this great institution."
"The Rutgers-Newark campus and community are gaining one of the nation's outstanding academic leaders and the Rutgers board is gaining a deeply thoughtful, energetic and committed partner," says SU Board of Trustees Chairman Richard L. Thompson. "Nancy has been a superlative leader, seeing our University to wonderful success and helping us to build on our distinctive greatness and achieve new heights. Among her many achievements, she led us through an aggressive and successful $1 billion capital campaign, positioned us in ways that have resulted in a record level of applications from an applicant pool that is more diverse than ever, attracted hundreds of new faculty, overseen the creation of a stellar array of new academic facilities, and engaged our city and community in unprecedented ways. Through these efforts, and her thoughtfully planned transition, she has positioned SU to attract a new leader of the highest caliber."
With Chancellor Cantor joining Rutgers-Newark in January, several months ahead of her planned departure, she and Chairman Thompson are discussing a transition plan for University leadership, and more details will be provided soon. The Chancellor Search Committee continues its work, which remains on schedule, with details available at syr.edu/chancellorsearch.
Rutgers University in Newark is one of three campuses of Rutgers, the State University of New Jersey. It is a world-class urban research and teaching institution, with more than 12,000 students and more than 500 faculty members. The Newark campus comprises seven colleges offering more than 45 undergraduate and more than 50 graduate majors and joint degree programs through the School of Criminal Justice; School of Law-Newark; Rutgers Business School-Newark and New Brunswick; School of Public Affairs and Administration; Newark College of Arts and Sciences/University College; College of Nursing; and the Graduate School. For more than 15 years Rutgers-Newark has been ranked by leading publications as the most diverse national university in the nation. The campus is an engine of social mobility that attracts students of exceptional talent from all socioeconomic backgrounds.
"I am excited to welcome Nancy to Rutgers as our Newark chancellor. Over her career, Nancy has held leadership positions at some of our nation's best schools," says Barchi. "She has always pursued excellence in higher education and shown a strong commitment to issues of accessibility and community engagement. She is the ideal fit to be our Newark chancellor and we look forward to her arrival on campus."
Cantor began her tenure as SU's 11th Chancellor and President in 2004 and defined the University's vision, Scholarship in Action. This entails a view of the university not as a traditional "ivory tower," but as a public good, an anchor institution that collaborates with partners from all sectors of the economy to more effectively serve the needs of society.
Under Chancellor Cantor's leadership, SU has pursued multiple cross-sector collaborations in the City of Syracuse that are simultaneously enriching classroom scholarship and education, and changing the face of the city. The breadth, depth and success of these efforts earned SU the distinction of being among the first institutions to earn the Carnegie Foundation for the Advancement of Teaching's classification as a university committed to community engagement. They also earned Chancellor Cantor the 2008 Carnegie Corporation Academic Leadership Award.
Prior to her appointment at SU, Chancellor Cantor served as chancellor of the University of Illinois at Urbana-Champaign, and provost and executive vice president for academic affairs at the University of Michigan, prior to which she had been dean of its Horace H. Rackham School of Graduate Studies and vice provost for academic affairs. She also was professor of psychology and senior research scientist at the Institute for Social Research at Michigan. Previously, she had been chair of the department of psychology at Princeton University.
The Rutgers announcement can be read here.