STEM
Success in Engineering
NSF grant boosts L.C. Smith's efforts to enhance undergraduate experience
The first couple years of college can be a difficult time of transition for any student: tackling the higher level of academics, adjusting to campus life, developing new friendships. Engineering and computer science students may face even more challenges that make persevering in their majors that much tougher.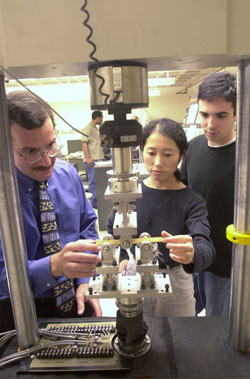 "Students come into engineering and computer science typically because they are strong in math and science. They have an interest in engineering, but oftentimes they don't know what engineering is—it's not a field they are traditionally exposed to in high school," says L.C. Smith College of Engineering and Computer Science Associate Dean for Student Affairs Julie Hasenwinkel.
In their first years, students are required to take foundational coursework, such as calculus or chemistry. They see the math and science but they don't necessarily recognize the applications.
"Students need to have the foundations, but without the connection between the foundations and the really cool applications, many of them—even very capable students—lose interest along the way," says Hasenwinkel, an associate professor of biomedical engineering. "The challenge is how to keep students motivated and keep the long-term goals in view."
Hasenwinkel and her L.C. Smith colleagues are putting strategies in place to help keep students engaged and strengthen retention rates beginning this fall, including first-year coursework involving real-world projects and fostering stronger faculty-student interactions.
Recent funding from the National Science Foundation (NSF) for $830,000 will bolster their efforts further. The project, "Meeting the Graduate 10K+ Challenge: Enhancing the Climate for Persistence and Success in Engineering (ECliPSE)," will roll out over the next five years.
Strategic plan
The project began forming last summer after Hasenwinkel organized a committee to look at ways to boost retention and best practices in engineering education. The effort was a way to address a focus on undergraduate education under L.C. Smith's Dean Laura Steinberg's strategic plan.
Hasenwinkel, who is the principal investigator, is joined on the project by committee members Assistant Professor and Director of the Chemical Engineering undergraduate program Katie Cadwell; Engineering Management Program Director Frederick Carranti; Associate Professor of Civil and Environmental Engineering Joan Dannenhoffer; and Professor of Electrical Engineering and Computer Science and Senior Associate Dean for Academic and Student Affairs Can Isik.
The project members, who had received seed funding from the dean, saw an opportunity to secure further funding with the NSF's new "Graduate 10K+" initiative. Although the NSF has other funding programs to help train and retain college students in the STEM (science, technology, engineering and mathematics) fields, the Graduate 10K+ initiative is a public-partnership with Intel and GE, which provided $10 million to help meet a goal of graduating 10,000 engineers and computer scientists in the near future.
SU is one of nine schools to receive the funding, which will go toward creating a more welcoming undergraduate experience. The team will focus on a faculty development program, implementing innovative teaching techniques in first- and second-year classes, and a redesign of the first semester gateway engineering course with help from Bucknell University faculty, among other work.
Gateway course
Based on a model course at Bucknell, the L.C. Smith gateway course, ECS 101, will include real-world application projects where students will do three projects over the course of the semester in multidisciplinary teams. Typically, most applied courses are only for upper-level classes. For example, aerospace engineering students design planes in their senior design class that they let soar in the Carrier Dome.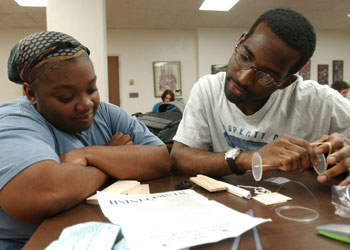 "Students can enroll in different projects that give them the opportunity to explore different majors and make a more informed decision about the major they select," Hasenwinkel says. "Also, our faculty members believe engineering is an exciting field to work in and we want to be able to convey that more effectively to students earlier in their careers."
Although the project will benefit all students, the team members hope it will be particularly beneficial in creating a more supportive environment for students from underrepresented groups.
Increasing community connections with faculty and peers can help. For example, instead of class lectures, group projects in class might work better. "If the students are working in groups on problems, the professor can go around and interact more one-to-one," she says.
A source of inspiration
Many L.C. Smith faculty members are already using interactive teaching techniques, and those experiences will be shared with other colleagues to form a source of support. "We need to put our best foot forward in terms of the way we're teaching the courses and using techniques that are going to be most effective in those early courses," Hasenwinkel says.
The researchers will be assessing the elements of the project throughout the five years, looking at student attitudes toward persistence, connection to their peers and levels of self-confidence, and faculty perceptions.
As an adviser, Hasenwinkel encourages students to reach out to the supports that are available at the college and University, including meeting with professors and teaching assistants and attending academic workshops. She also wants them to think about where they want to be after graduation. "Many times it's just a matter of getting students to focus on the big picture and what it takes to be a successful engineering student," she says.