Arts & Culture
Setnor Faculty of Grupo Pagán to Perform in Brazil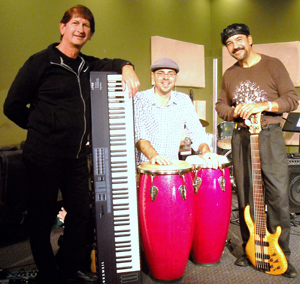 Bill DiCosimo and Josh Dekaney, both faculty members in the College of Visual and Performing Arts' Rose, Jules R. and Stanford S. Setnor School of Music, will travel to Brazil in July with Edgar Pagán to perform as Grupo Pagán. The trio will perform in São Paulo and Rio de Janeiro July 1-12 in a cultural exchange tour, sharing music at churches, non-governmental organizations, percussion schools and the Federal University of the State of Rio de Janeiro (UNIRIO).
Most notably, Grupo Pagán will be hosted by the Meninos do Morumbi, a premier nongovernmental organization that provides arts, music and meals for schoolchildren in the impoverished area of Morumbi, São Paulo.
The performances will feature Grupo Pagán's original music, as well as mambo, cha cha cha, gospel, jazz and Latin pop. As part of this musical and cultural experience, Grupo Pagán will also host neighborhood jam sessions after the shows, improvising music on the spot with the local Brazilians. Additionally, the band will present a performance and two workshops on American and Latin American musical styles and the music business at UNIRIO.
The performance schedule will be posted at www.grupopagan.com. For more information, contact Pagán at 315-663-1199 or epagan@twcny.rr.com.