Rebecca Reed Kantrowitz Named Interim Senior Vice President and Dean of Student Affairs
Chancellor Nancy Cantor today named Rebecca Reed Kantrowitz interim Senior Vice President and Dean of Student Affairs at Syracuse University.
Kantrowitz, currently Associate Vice President for Inclusion, Community and Citizenship within SU's Division of Student Affairs, will succeed Thomas V. Wolfe, who last month was appointed as the 14th president of Iliff School of Theology in Denver. Kantrowitz will formally assume her new role on July 1 and will continue to work with Wolfe to ensure a smooth transition until he departs for Illiff on Aug. 1.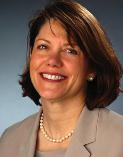 "Rebecca is an excellent, seasoned student affairs professional who has both deep experience at SU and broad experience at a range of other universities," says Chancellor Cantor. "Her leadership experience across a wide range of student affairs areas is precisely what we need to continue advancing the successes we have had within the division under Tom's leadership."
"As a dedicated Student Affairs professional for more than three decades, Rebecca has gained an expansive knowledge of the field," says Wolfe. "She has demonstrated a keen awareness to understanding the needs of the evolving higher education landscape. I have the utmost confidence she will provide the stewardship that is needed during this time of transition to further the good work of our division."
Serving in her role as associate vice president since 2008, Kantrowitz has overseen offices responsible for residence life, off-campus and commuter students, learning communities, first-year and transfer students, and judicial affairs. Additionally, she has supervised the University's four cultural centers: the LGBT Resource Center, the Disability Cultural Center, the Slutzker Center for International Services and the Office of Multicultural Affairs. Kantrowitz has worked closely with Student Affairs staff to create the STOPBias campaign and Conversations About Race and Ethnicity (CARE) dialogue program.
In the 1980s, Kantrowitz began her career at SU as a residence hall director of Booth and Lawrinson Halls. She then assumed the post of residential life coordinator at the University of California, Berkeley, followed by positions as director of residential life and assistant dean of students at Hamilton College, before returning to SU in 2002 as director of residence life.
Kantrowitz is a member of the Community Wide Dialogue Advisory Board and recently served on the board of directors of the Jewish Community Center of Syracuse. She earned a B.A. in English from Allegheny College, M.S. in education from Niagara University, and has completed doctoral course work in higher education at SU.
Her professional affiliations have included the American College Personnel Association, the Association for Student Judicial Affairs, the Association of College and University Housing Officers, the College Student Personnel Association of New York and the National Association of Student Personnel Administrators.
Planning for a permanent appointment is under way and a national search for the position will be conducted.