Media, Law & Policy
NABJ SU Chapter Is Finalist for Student Chapter of the Year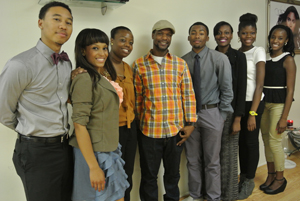 The Syracuse University chapter of the National Association of Black Journalists (NABJ) is one of three student chapter finalists for NABJ Student Chapter of the Year Award. Based in the Newhouse School, the chapter is overseen by Max Patiño, director of recruitment and diversity.
Chapters are chosen for the award if they have excelled in serving NABJ, their collegiate communities and their members with unique activities and programs and demonstrated leadership.
The NABJ Syracuse University Chapter (NABJ-SU) celebrated its 10th anniversary in 2012, and the year was dedicated to creative and collaborative programs.
"I'm so happy. We've worked really hard for this honor," says chapter president Christina Jones, a broadcast and digital journalism major from New Jersey. "Being at a PWI (predominantly white institution) can make it hard to do things, but we did a lot."
The NABJ-SU chapter boasts 60 local members, of which 12 are also NABJ members. Jones said a big catch for them was securing Roland Martin—NNABJ's 2013 Journalist of the Year Honoree—as a guest lecturer. "We had over 200 students, faculty and ambassadors come out for that event," says Jones. "He spoke about issues on immigration, gun control and literally everything that's going on in politics and around the world today." The chapter event was also shared via a live feed on Facebook so other students and chapters could watch.
The chapter also hosted actress and activist Gabrielle Union.
Carolina Association of Black Journalists at the University of North Carolina, Chapel Hill, and Temple Association of Black Journalists at Temple University are the other two finalists. The winner will be announced at NABJ's 38th Annual Convention and Career Fair in Orlando, Fla., in July.
An advocacy group established in 1975 in Washington, D.C., NABJ is the largest organization for journalists of color in the nation, and provides career development as well as educational and other support to its members worldwide.