Campus & Community
Movies on the Quad Planned: 'Skyfall' This Friday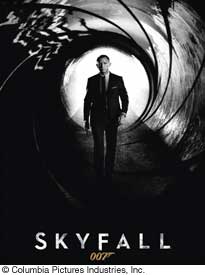 Summer at Syracuse is again sponsoring movies on the Quad. Arrive at 8 p.m. for a good seat. Movie begins at 9.
This Friday night, June 7,  it will be Daniel Craig, Judi Dench, Javier Bardem in "Skyfall," from Columbia Pictures; Directed by Sam Mendes. Rated PG-13; 143 minutes; 2012.
In "Skyfall," James Bond's loyalty to M is tested as her past comse back to haunt her. As MI6 comes under attack, 007 must track down and destroy the threat, no matter how personal the cost.
On June 21, the movie is "Wreck-It-Ralph." Voices by: John C. Reilly, Jack McBrayer, Jane Lynch. Walt Disney Pictures; Directed by Rich Moore. Rated PG; 101 minutes; 2012.
Wreck-It Ralph longs to be as beloved as his game's perfect Good Guy, Fix-It Felix. Problem is, nobody loves a Bad Guy. But they do love heroes… so when a modern, first-person shooter game arrives featuring tough-as-nails Sergeant Calhoun, Ralph sees it as his ticket to heroism and happiness. He sneaks into the game with a simple plan — win a medal — but soon wrecks everything, and accidentally unleashes a deadly enemy that threatens every game in the arcade. Ralph's only hope? Vanellope von Schweetz, a young troublemaking "glitch" from a candy-coated cart racing game who might just be the one to teach Ralph what it means to be a Good Guy.