Help Make the City of Syracuse Bloom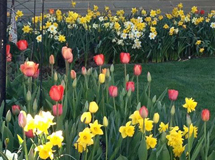 The Westcott Neighborhood Bulb project started 10 years ago. The original goal of the project was to beautify the Westcott neighborhood, and in the process help build community. The idea was to raise funds and offer 18 free perennial bulbs to anyone in the Westcott neighborhood who was willing to plant them where they could be seen from the street for all to enjoy.
The bulbs were offered on a first-come, first-served basis at the Westcott Community Center the first Saturday in October. The first year, about 1,000 bulbs were given away.
As time went on, the Bulb Giveaway turned into a garden extravaganza. Music, vendors, a film showing and free compost for planting with the bulbs accompanied the bulb giveaway. As word spread, the event grew to an average of 300 people a year showing up at the Westcott Community Center. In addition to individuals, community organizations in the Westcott neighborhood and nonprofit groups, such as the library, credit union and neighborhood schools, started to get involved.
In 2010, the project was expanded city wide. Outside the Westcott neighborhood, perennial bulbs (daffodils and tulips) are offered in bags of 100 at cost to individuals, neighborhoods and community organizations. The message is that the bulbs must be planted where they can be seen by all to enjoy. Whether it is on private or public property is immaterial. Last year orders ranged from 6,000 bulbs for the Skunk City neighborhood organization to 100 from numerous individuals.
Since 2010, the giveaway has averaged close to 20,000 bulbs a year. Hundreds of individuals and community organizations have participated.
Visit the project's web site, www.bulbproject.org, and its Facebook page, https://www.facebook.com/pages/Westcott-Neighborhood-Bulb-Project/144782302203019, to see what individuals and organizations have done to beautify the city. For details on ordering daffodils or tulips, send an e-mail to pwirth2@verizon.net with your phone number or call 637-0331. The price is $24 per bag of 100. The deadline for orders is Aug. 1.