STEM
Gina Lee-Glauser Named Fellow of American Society of Mechanical Engineers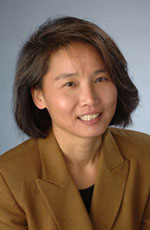 Gina Lee-Glauser, vice president for research at Syracuse University and research professor of mechanical and aerospace engineering in SU's L.C. Smith College of Engineering and Computer Science, was named a fellow of the American Society of Mechanical Engineers (ASME).
The fellow grade is the highest elected grade of membership in ASME. Fellowship is conferred upon a member with at least 10 years of active engineering practice who has made significant contributions to the profession.
"We are very proud of Gina and this recognition of her extraordinary contributions to her profession and our University," says Vice Chancellor and Provost Eric F. Spina. "She is such a selfless and generative person it is wonderful to see her singled out for acclaim by a national organization with the standing of ASME."
Lee-Glauser was nominated for outstanding contributions in academic/education research management and leadership spanning almost two decades at two different research universities, Syracuse University and Clarkson University. She spearheaded the concept of proactive faculty-centered university research services to promote and support research, training and creative activities through sponsored programs.
She also championed promotion of university-wide multidisciplinary activities, university-industry collaboration to accelerate the transfer of University knowledge to industry to spur innovation and enhance economic impact, and programmatic activities to enrich and support underrepresented minority science, technology, engineering and mathematics (STEM) students on campus. Her professional accomplishments are highlighted by her service to national organizations that support the engineering profession, including the ABET board of directors and the ASME Kate Gleason Award Committee, among many others.
"This promotion to ASME Fellow is indeed a great honor and recognition by my peers in mechanical engineering," Lee-Glauser says. "This would not have been possible without the strong support of my Syracuse University colleagues and staff as well as my colleagues in ASME, especially those on the Committee of Engineering Education."
In the Office of the Vice President for Research (VPR), Lee-Glauser oversees SU's central resources that support extramural research activities, including relevant policies. She also oversees the University-wide interdisciplinary research centers on campus, including the New York Center for Advanced Technology—Center for Advanced Systems and Engineering (CASE) at SU; the Syracuse Biomaterials Institute; the Burton Blatt Institute and Institute for Veterans and Military Families.
Prior to her current duties, Lee-Glauser served as associate vice president of research and was director of the Center for Advanced Systems and Engineering, and had overall responsibility of the University's Office of Technology Transfer and Industrial Development. The center had a total economic impact of more than $160 million during the three years when she led the center (2006-2008).
She initiated the CASE Co-op and Internship Program to provide experiential learning opportunities for international graduate students and to provide access to highly talented professional students to businesses.
Among her work to expand diversity on campus and support for underrepresented students, she manages the University STEM graduate fellowship program and is a faculty mentor for the Upstate Louis Stokes Alliance for Minority Participation (LSAMP) and Miami Posse I. She led the Central New York-Puerto Rico Alliances for Graduate Education and the Professoriate (AGEP), and was faculty mentor to the Collegiate Science & Technology Entry Program (CSTEP), Ronald E. McNair Scholars program.
Lee-Glauser also serves on a number of regional business and economic development organizations, including the Central New York Accelerator Advisory Board, Central New York Technology Development Organization and the Syracuse Center of Excellence in Environmental and Energy Systems.
Lee-Glauser received bachelor's and master's degrees in mechanical and aerospace engineering from the University of Buffalo and a Ph.D. in mechanical and aeronautical engineering from Clarkson University. She conducted her postdoctoral work at NASA Langley Research Center. Her areas of expertise include structural dynamics and control, active and passive vibration control, learning control and system identification.
ASME is a professional organization that enables collaboration, knowledge sharing and skill development across all engineering disciplines, while promoting the role of the engineer in society. The organization has 125,000 members worldwide—about 125 members are named fellows each year.