Exploring the History of Sport
Inaugural class looks at lacrosse and its importance in Central New York, foundation for 'America's First Sport' documentary
Sport management Professor of Practice Dennis Deninger sees sport as something more than just the game highlights on ESPN's "SportsCenter" or the score listings in the sports pages.
"A lot of people tend to generalize sport as fun and games, but sport has so much more meaning at many levels to many different people," Deninger says. "Look at the Wilma Rudolphs of this world. She was told as a girl that she would never walk, and she winds up winning Olympic medals."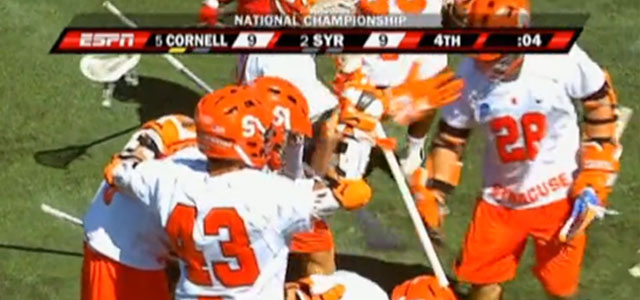 Stories of triumph over the human condition, cultural expressions and longstanding traditions are the basis of what makes sport relatable, entertaining and at times emotional.
Michael Veley, director of the Department of Sport Management and professor of practice in the Falk College of Sport and Human Dynamics, wanted students to gain that deeper understanding, and with Deninger developed the "History of Sport" course, which debuted in fall 2012.
The first two months of the course explores such topics as how sports developed in North America; the formation of the NCAA and other governing bodies; the Super Bowl's evolution; and what the future holds with more than 400,000 hours of sports programming on television and online. The last part of the course is devoted to one specific topic that students research, which forms the basis for a documentary on that subject.
First sport
The inaugural topic was the cultural impact of lacrosse in Central New York. It was a fitting first topic about a sport that is the oldest in North America, with its origins in the Native American Haudenosaunee culture of upstate New York, an important team sport for Syracuse University and the fastest-growing sport in the country. "America's First Sport" was the resulting documentary, which has since had more than 20,000 hits on Vimeo and has been linked to from several lacrosse publication and interest websites.
During the class, 15 students began their research with the first recorded accounts of sport competition on the North American continent: lacrosse games played by indigenous peoples that were observed by Jesuit missionaries in 1637. For their final project, each student researched a different aspect related to lacrosse.
Five of the students—from the Falk College, the Newhouse School of Public Communications and the College of Visual and Performing Arts—continued independent study this spring, conducting research on amateur and professional lacrosse to support 50 interviews for the documentary. These included conversations with Native American leaders, players and coaches, presidents of the Federation of International Lacrosse and U.S. Lacrosse, media and lacrosse historians.
Rich history
One of the five students, Meaghan Lane '15, who is majoring in public relations, looked into lacrosse at Onondaga Community College, the history of Syracuse men's and women's lacrosse and the Haudenosaunee lacrosse arena on the Onondaga Reservation.
"This sport is so rich in history, but I think much of the information lies in personal accounts and stories passed down through families," Lane says. "The background research provided the basics, but the true meat of the documentary came when we brainstormed various questions to ask the former players, coaches and historians in the actual video interviews."
Brian Kripke, a senior majoring in communication and rhetorical studies, also continued to contribute to the project into the spring, researching the history of Major League Lacrosse (MLL) and important lacrosse figures, including the MLL commissioner. "The research was laying the foundation for the script and the direction we were going with for the documentary," Kripke says.
Kripke was surprised to see how increasingly popular lacrosse is among high school sport programs, and how that will impact college and professional play. "It was interesting to find out that lacrosse is not an Olympic sport yet, and to see where lacrosse is now and where it's going to be in the not-to-distant future," Kripke says, as it rivals such sports as major league soccer and tennis.
The work provided real-world experience in the research process and what goes into making a documentary—and an understanding of the history of lacrosse and its cultural importance to Native American people, Kripke says.
Putting it on film
With support from the Sport Management Advisory Board, the Department of Sport Management and some donors, a professional production company was hired to work with Deninger, a former ESPN television production executive who wrote, conducted the interviews and directed the documentary. ESPN commentator and Newhouse alumnus Mike Tirico '88 narrated the film.
For Native Americans, the documentary was a chance to talk about the meaning behind the sport. Onondaga Nation member and three-time All-American and former professional Iroquois Nationals Lacrosse team member Neal Powless says lacrosse is part of the Haudenosaunee cultural identity and value system.
"It's hard to separate lacrosse and the spirit of it and what we play for. It's so ingrained as to who we are," says Powless, assistant director of SU's Native Student Program. "In our traditional government, you see chiefs that were lacrosse players because it was a way to watch the young people as they grew up and see how they conducted themselves. It's a window into the heart and soul of each individual to how we conduct ourselves on and off the field."
The game is also about bringing communities together. "You battle on the field and you come off the field and shake hands," Powless says. "It's about competition, but it's also a celebration of your gifts from your creator and you celebrate your gifts by using them and sharing them for the betterment of everybody."
Taking part in the documentary allowed Powless to share his culture. "As the sport grows in the world and the United States, it's really exciting to see these types of things that spread the message," he says.
Premiere event
"America's First Sport" premiered at a symposium event in April, which included panelists Onondaga Nation Faithkeeper and former SU lacrosse goalie Oren Lyons '58; former SU men's lacrosse coach Roy Simmons Jr. '59 and current SU women's lacrosse coach Gary Gait '90; Inside Lacrosse Magazine editor-in-chief John Jiloty '00; SU associate professor of religion Phillip Arnold; and Powless, all of whom were in the documentary. ESPNU is planning to air the documentary at a later date.
For the upcoming fall class, sport management faculty are reviewing possible topics to explore.
In the class and further independent study, Lane appreciated working with a research team and learning about what lacrosse means to the Haudenosaunee. "We are so lucky to share in such a special tradition, and I sincerely hope that as time goes on, players, coaches and fans will remember the game's roots, which transcend the boundaries of history, religion, culture and family," Lane says.
The memories have lasting meaning for Powless who scored his first goal at the age of 13 during a medicine game—a game played to lift the spirits—in honor of his grandfather, who was sick.
"There are memories that I carry with me and I try to teach others—as a mentor, a coach and as an educator—that people can learn and understand that lacrosse is something more than a game," Powless says.