Business & Economy
Desire, Resources for Self-Employment Grow with Age, Says Whitman Study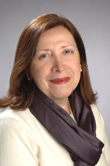 Starting a business is no longer a "young person's game," according to new research by Maria Minniti, a professor at the Martin J. Whitman School of Management.
Minniti and her co-authors, professors Teemu Kautonen and Simon Down of Anglia Ruskin University (UK), contend that, contrary to popular belief, an individual's desire to become self-employed actually increases with age. Their paper, titled "Ageing and Entrepreneurial Preferences," was recently published in the April 2013 issue of the academic journal Small Business Economics.
Using data collected from 2,566 individuals across 27 European countries, the researchers found that entrepreneurial activity increases with age for individuals who prefer to employ only themselves ("self-employers"), whereas it increases up to a critical age threshold (late 40s) before decreasing for those who want to employ staff ("owner-managers").
Age is much less of a factor for those who do not necessarily prefer self-employment but are forced into it by the lack of an alternative ("reluctant entrepreneurs").
The opportunity for starting a business increases with age because many entrepreneurial resources—such as the amount of disposable income, assets that can serve as collateral for bank loans, social capital, and professional and industry experience and knowledge—accumulate with age.
Minniti, Whitman's Bantle Chair of Entrepreneurship and Public Policy, says, "Our results show that the likelihood of taking the step from thinking about starting a business to actually acting upon the idea increases with age up until the early 60s—but only for individuals who aim to employ themselves. Individuals in their 50s and 60s rarely start businesses that aim to generate employment and grow."
Although the authors say it is unrealistic to expect older entrepreneurs to make substantial contributions to job creation, they believe policies that make self-employment an attractive late-career option could lead to longer working careers, as self-employed people tend to retire later than employees.
Minniti adds, "Increasing awareness of entrepreneurship amongst older age groups might boost their participation in social and economic life, such as social enterprise and voluntary work, which may generate modest economic benefits and contribute toward a better quality of life. Also, if traditional employment markets continue to decline, many in the older age group will need to seek self-employment out of necessity."
The study suggests additional public policy implications regarding welfare and social security benefits.
"Governments have an interest in exploring more flexible labor laws and additional enterprise support measures, if only to lessen the effects of increased welfare benefits and pension payments amongst an aging population," she says.
To read the full study, click here.