Arts & Culture
VPA Alumna, Husband Establish $2M Endowed Chair of Design Leadership
James Fathers named inaugural chair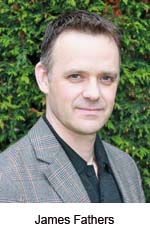 The College of Visual and Performing Arts (VPA) has announced the creation of the Iris Magidson Endowed Chair of Design Leadership in its Department of Design. The chair was established through a $2 million commitment from Magidson, a 1964 VPA alumna, former professor and current member of the college's advisory council, and her husband, Frank D. Sullivan.
VPA has appointed James Fathers as the inaugural Iris Magidson Endowed Chair of Design Leadership. Fathers currently serves as head of the School of Art & Design at York St. John (YSJ) University in York, England, and has a background in industrial design and socially responsible design. He will assume the duties of chair on July 1 and will also serve as a professor on the Department of Design's faculty.
"It is with deep gratitude to Iris and Frank that we begin this new chapter in the Department of Design's history," says VPA Dean Ann Clarke. "James comes to us with an exceptional design background and the academic and administrative experience necessary to lead and manage the department's excellent degree programs and initiatives. I am proud that he will serve as our first Iris Magidson Endowed Chair."
Fathers will work collaboratively with faculty and staff to develop and articulate a compelling, forward-thinking mission and vision for the department and will actively engage the University, the community, alumni and the global design profession in implementing this vision. He will also lead and facilitate discussions related to program growth, new graduate programs and collaborative design research and outreach.
"I am excited and honored to have been given the opportunity to lead the design department, which has a very impressive history and an amazing list of alumni, as well as consistently high rankings for its current programs," says Fathers. "I look forward to working with the staff and students to explore new opportunities and collaborations and together build on these excellent foundations in enhancing the reputation and standing of this great department."
Fathers entered the education sector in 1997, following 10 years as a designer in manufacturing and two years as a consultant to small and medium enterprises on innovation and design. Since then, he has put this experience into practice in learning, teaching, research and enterprise.
After joining the YSJ faculty in 2006, Fathers was involved in the consolidation and development of the university's design programs, helping to develop new programs in product design and an M.B.A. in design management. As head of art and design, he managed and developed the portfolio of this subject area and developed enterprise activity, providing support, facilities and mentoring for recent design graduates via DesignWorks, the university's design-based incubator unit. He was appointed a staff governor in 2010.
Fathers' teaching and learning activity focuses on sustainability, universal design and design in a development context. His significant research interest in socially responsible design has been developed with the delivery of a number of journal and international conference papers. His registered doctoral research has focused on the role of design education in a development context, which led to a 12-month research sabbatical to India, where he worked alongside local crafts groups to develop appropriate design training strategies to facilitate enterprise development.
Fathers is currently working on a book project for Ashgate Gower on the role of design in development contexts. He is also director of Just Add Spice, a London-based social enterprise that develops agency timebanking systems for communities and public services.
Fathers holds a Ph.D. from the University of Wales, Cardiff, and a B.A. from South Glamorgan Institute of Higher Education in Cardiff, Wales. He is a fellow of the Royal Society for the encouragement of Arts, Manufactures and Commerce (FRSA).
Magidson graduated from VPA with a bachelor of fine arts degree in advertising design. Thirty-six years later, she returned to SU as a full-time professor to teach communications design from 2000-06. Prior to teaching at the University, she worked for New York City design consulting offices and in-house for Bristol-Myers Squibb's domestic and worldwide businesses from 1969-1995, first as a designer and then as a design director.
Magidson has in-depth knowledge of, and experience with, all aspects of strategic brand development. Concurrently, she worked as a visual communications consultant with her own firm since 1970. She now volunteers her time solving communications design problems for nonprofit organizations on Hilton Head Island, S.C., where she and Sullivan live.
The Iris Magidson and Frank D. Sullivan Endowment Fund is counted as part of The Campaign for Syracuse University and is bolstered through SU's Faculty Today, a gift challenge initiative created to encourage donors to endow faculty chairs and professorships. The Faculty Today program is designed to accelerate the University's ability to recruit and retain world-class faculty.