University Community Remembers Law Professor Ted Hagelin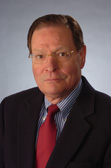 Theodore "Ted" Hagelin of Manlius, a professor in the College of Law for 35 years, died of cancer on Saturday, May 18. He was 70.
A memorial service will be held at 3 p.m. on Thursday, May 30, at Hendricks Chapel. A reception will follow at the College of Law. Parking will be available in the Irving, Hillside and Waverly parking lots.
Remembrances can also be left online at www.law.syr.edu/faculty/TedHagelinMemorybook.aspx.
Hagelin is remembered for his innovative and pioneering work in the fields of intellectual property and technology commercialization. He was the Crandall Melvin Professor of Law, a Kauffman Professor of Entrepreneurship and Innovation, director of the New York State Science and Technology Law Center and director of the Technology Commercialization Law Program.
He is survived by his wife of 47 years, Ronile Lawrence; a son, Mark Hagelin; a daughter, Sarah Hagelin; a granddaughter, Emma Hagelin; a brother, Timon Hagelin; a sister, Kendall McTear; and his nieces and nephews.
To continue to celebrate Hagelin's life and teaching, in lieu of flowers, the family requests that donations be made in his memory to Syracuse University College of Law, Suite 425, Syracuse, NY 13244-1030. Donations can also be made online at https://secure.syr.edu/giving/law_giving.aspx. (Please select "Other" on the drop-down menu of gifts, and input "Ted Hagelin Memorial Scholarship" in the comment box.) These funds will be used to establish a scholarship in Hagelin's memory.