SUArt Galleries Summer Series Highlights Art on Campus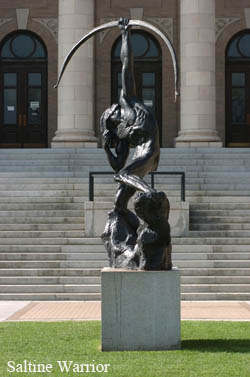 The Syracuse University Art Galleries (SUArt) Summer Lunchtime Lectures series will focus on art on campus—objects installed either in campus buildings or outside on or adjacent to the Shaw Quadrangle.
On select Wednesdays, the tour and lecture will begin at the SUArt Galleries in the Shaffer Art Building at 12:15 p.m., and then as a group walk to the location of the artwork. The lectures are free and open to the public; outdoor lectures will be weather permitting.
Lunchtime Lectures will begin the summer 2013 series with a talk by Associate Director David Prince on Wednesday, June 19, at 12:15 p.m.  Prince will present an examination of Emile Antoine Bourdelle's "Herakles" (1909), and Luise Meyers Kaish's "Saltine Warrior" (1951), each installed on the Shaw Quadrangle.
Additional lectures planned for the summer season are listed below and additionally scheduled lectures can be found at suart.syr.edu, or by visiting us on Facebook at https://www.facebook.com/#!/SUArtGalleries.
July 17:  A Comparison of James Earle Fraser's "Lincoln" (1930) and Jean-Antoine Houdon's "George Washington" (c. 1790).
July 24: Crucifixion: Exploring the Rico Lebrun Mural and Paintings Installed in Heroy Geology Building.
August 7:  Persephone, Moses and Job: Mythology and the Old Testament in the Ivan Mestrovic Sculpture Court.