Campus & Community
SU Day at Citi Field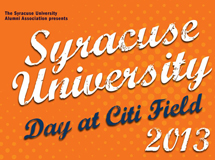 SU students, faculty, staff, family and friends are invited to join in the fun of SU Day at the ballpark! After two years at Yankee Stadium, SU Day shifts to Citi Field, home of the New York Mets and the 2013 All Star Game. Tickets and bus transportation to the June 29 SU Day at Citi Field are on sale through June 3 at invite.syr.edu/sumets.
Buy your tickets today and receive a commemorative SU Mets T-shirt on game day!
In addition, it's Cap Day at Citi Field and the first 25,000 people will receive an orange Mets cap!
Tickets $25, $45, $110
Pre-game Bullpen Plaza Picnic $37
Round trip bus transportation $53
Bus leaves from Manley Field House at 6 a.m. and returns at approximately 11 p.m.
Picnic – 11:40 a.m.-1:40 p.m.
First Pitch: Mets vs. Washington Nationals (parent team of the Chiefs), 1:10 p.m.
For more information, email sumets@syr.edu or call 212-826-0320