SU Archives Completes Processing of George Fisk Comfort Family Collection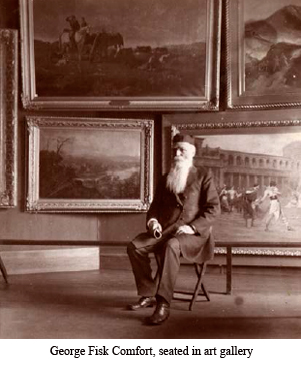 The Syracuse University Archives has completed the processing of the George Fisk Comfort Family Collection, which was made possible through a grant from the Gladys Krieble Delmas Foundation.
The collection, which is available to scholarly researchers and the general public, contains a significant amount of material from George Fisk Comfort (1833-1910), the first dean of the College of Fine Arts at Syracuse University. An artist and academic, Comfort promoted the cultural importance of the arts in the United States and was highly involved in the effort to establish the Metropolitan Museum of Art in New York City, as well as what is now the Everson Museum of Art in Syracuse.
Comfort joined Syracuse University as a professor of modern languages, literature and aesthetics in 1872, two years after the institution opened its doors. He pushed for a more formalized study of fine arts at the University, and with the support of the administration, he began the College of Fine Arts in 1873. The college was the first American institution to offer both the bachelor's and master's degree in fine arts.
Although the College of Fine Arts no longer exists in its original form at the University, its essence can be seen today in SU's College of Visual and Performing Arts, the School of Architecture and the History of Art program in The College of Arts and Sciences.
The George Fisk Comfort Family Collection, dating from 1822 to 1956, includes correspondence, photographs, writings and other materials from George Fisk Comfort, his grandfather, father, wife, son and various other relatives. George Fisk Comfort is not the only notable figure in the collection. His father, Silas Comfort, a Methodist minister, was at the center of a controversial ecclesiastical trial after allowing the testimony of an African American to be used against a white parishioner in the 1830s.
Comfort's wife, Anna Manning Comfort, was a graduate of the first class from the New York Medical College for Women and the first licensed female practitioner in Connecticut.
The four generations of the Comfort family are represented in this collection and provide an interesting cross section of a progressive American family during the late 19th and early 20th centuries.
The collection was processed and an EAD finding aid was created. Various items, such as letters and family photographs, were digitized and are available to view online in the finding aid, which can be found at archives.syr.edu/collections/faculty/sua_comfort_gf.htm.
For more information on this collection, email archives@syr.edu.