Media, Law & Policy
Press Club Honors Syracuse University Journalists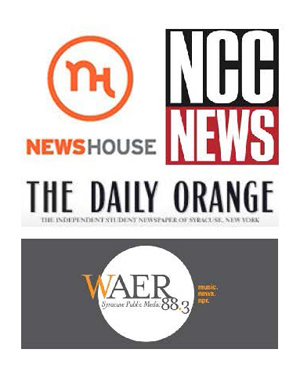 They are the names that one day will make up the bylines and help write the headlines in daily papers throughout the country and online websites. They are also the names that we will hear on the nightly news, and on the radio. On May 4, those names were read aloud as part of the Syracuse Press Club awards dinner. The Press Club annually awards excellent work, and SU students and staff are among the winners. These awards are determined by reporters from other news markets, which is a true peer review for people in the journalistic field.
College Student Category
Best Print News Story:
Michael Cohen, The Daily Orange
Ryan Franklin, The Overview
Latrina Fennell, The Overview
Gabriela Riccardi, The Daily Orange
Best Radio News Story:
Durrie Lawrence, NCC News Radio
Jim Levulis, NCC News Radio
Best Radio Sports Story:
Bill Spaulding, NCC News Radio
Chet Davis, NCC News Radio
Best Radio Feature Story:
Durrie Lawrence, NCC News Radio
Marina Zarya, WAER
Best TV News Story:
Matt Porter, NCC News
Farron Salley, NCC News
Best TV Sports Story
Marisa DeCandido, NCC News
Mark Sell, NCC News
Best TV Feature Story
Nick DeSantis, The Newshouse.com TV
Samantha Okazaki, The Newshouse.com TV
WAER-FM was also awarded a number of Press Club honors, including Jim Levulis for spot news coverage; John Smith for human interest feature; John Nolan and Chet Davis for sports stories; Chris Lewis, Gabe Altieri, Bill Spaulding, Andrew Kanel, Erik Duick and James Gloria for best sports shows; and John Smith and Scott Willis for best radio newscast.