Newhouse Partners with Syracuse City School District on Student Film Project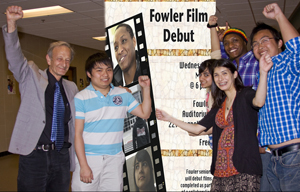 Students from Syracuse's Fowler High School partnered with undergraduates from the S.I. Newhouse School of Public Communications to produce three films about life in the halls, classrooms and playing fields of Fowler.
The Fowler students, Khang Tran, Phuc Do, Vincent Ndabaruta and Deemah Abdulwahed, participated in a 10-week seminar taught by Newhouse Professor Richard Breyer. On weekends they worked on the films with students from the Newhouse School.
"Everyone benefited. The Newhouse students learned about Syracuse's rich, diverse culture, and the Fowler students learned what it takes to tell a good story, and what it takes be a successful college student," says Breyer.
The films were screened to students, faculty, family and community members at the Fowler auditorium on May 1. SCSD superintendent Sharon Contreras attended, and invited the students to show their films at the next school board meeting.
The films were shown at the May 14 meeting to a very appreciative audience.
Participating Newhouse students included Claire Dunderman, Elliot Brannon, Megan McNaly, Sarah Gleason, Conor Hurley and Andrew Muckell.
One of the films, "A Player for Life," is available on YouTube.