Memorial Service for Maxwell Professor William Duncombe to Be Held June 7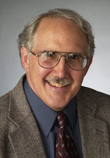 William D. Duncombe, professor of public administration and international affairs in the Maxwell School of Citizenship and Public Affairs, senior research associate in Maxwell's Center for Policy Research (CPR) and associate director of CPR's Education Finance and Accountability Program, died May 11 in Portland, Ore. He was 57.
A memorial service will be held Friday, June 7, at 2:30 p.m. in Hendricks Chapel. A reception will follow in the Maxwell Public Events Room, 220 Eggers Hall.
Duncombe joined the Syracuse University community in the mid-1980s as a Maxwell graduate student. He received his master's degree in public administration in 1987 and Ph.D. in public administration in 1989. His first academic position was teaching public administration at the University of Georgia. He returned to the Maxwell School in 1991 and remained for his entire career.
During his 22 years at Maxwell, Duncombe taught public budgeting and statistics to hundreds of M.P.A. students and introduced education policy into the M.P.A. curriculum. He mentored dozens of Ph.D. students in public administration.
Duncombe was well-known for his dedication to his students. He received the Excellence in Graduate Education Faculty Recognition Award from SU in 2006, and in 2001 was the first recipient of the Birkhead-Burkhead Teaching Excellence Award and Professorship given by Maxwell's Department of Public Administration and International Affairs. He received the Leslie A. Whittington Excellence in Teaching Award from the National Association of Schools of Public Affairs and Administration in 2006.
He was internationally known for his research on education finance, property taxes, public budgeting and financial management. His 66 main publications include one book, 51 articles in leading professional journals and 14 chapters in professional books. Duncombe was selected as editor of Public Budgeting and Finance, the leading journal in its field, in 2011. He was elected a fellow in the National Academy of Public Administration in 2010 and received the Aaron Wildavsky Award for lifetime achievement in budgeting and financial management scholarship by the Association of Budgeting and Financial Management in 2009.
Duncombe's work embodied the University's Scholarship in Action vision. He made important scholarly contributions to public debates about school finance reform in California, Kansas, Maryland, Missouri, Nebraska, New York and Texas. These contributions include testimony in court cases concerning education finance reform in Missouri and Texas and a co-authored amicus curiae brief for the Campaign for Fiscal Equity court case in New York. He also served as a consultant in the design or education finance formulas for the New York State Education Department; the states of Kansas, Nebraska and Maryland; and the city of St. Louis.
"Bill Duncombe was my valued friend and colleague for 25 years. We wrote many articles and served on many committees together," says John Yinger, Trustee Professor of Public Administration and Economics. "Not only was he an outstanding scholar and teacher, but he was one of the kindest and most generous people I have ever met. He leaves a rich legacy in the form of his scholarship and the many students he mentored over the years."
Duncombe is survived by his wife, Julie, and his sons, Chris and David.
Contributions in Duncombe's memory may be made to the William Duncombe Memorial Graduate Scholarship, Maxwell Hall of Syracuse University, 200 Eggers Hall, Syracuse, N.Y. 13244. Donations may also be made online at https://secure.syr.edu/giving/maxwell_giving.aspx (select "other" on the drop-down menu and put "William Duncombe Memorial Graduate Scholarship" in the comments box).