Veterans
Institute for Veterans and Military Families Featured on CBS's '60 Minutes'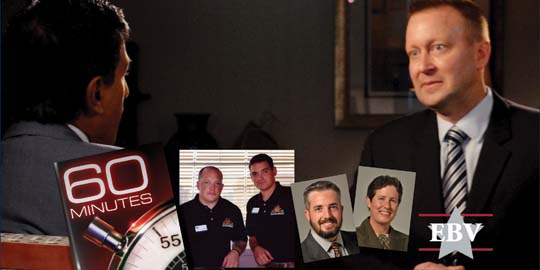 Special correspondent Sanjay Gupta reports on the institute's Entrepreneurship Bootcamp for Veterans with Disabilities
Last summer, the CBS News series "60 Minutes" sent special correspondent Sanjay Gupta to Syracuse University to report on the IVMF's innovative Entrepreneurship Bootcamp for Veterans with Disabilities (EBV). The only program of its kind in the country, EBV leverages the skills, resources and infrastructure of higher education to offer cutting-edge, experiential training in entrepreneurship and small business management to post-9/11 veterans with service-related disabilities.
On Sunday, May 12, at 7 p.m. ET on CBS, "60 Minutes" will broadcast Gupta's report.
Filmed over several days during the residency phase of the EBV experience at Syracuse University's Whitman School of Management, the segment includes an extended interview with Mike Haynie, IVMF executive director and Barnes Professor of Entrepreneurship, and follows several 2012 EBV graduates as they begin the long, hard process of launching their own businesses after returning home from combat. Haynie, himself a veteran of the U.S. Air Force, founded the EBV program at the Whitman School of Management in 2007.
Veterans' Stories
Viewers will meet several veterans participating in the program, including Retired Air Force Lt. Col. Pam Randall, who was having a hard time finding even a living wage job after leaving the military. She suffers from a range of painful disabilities incurred over years of hard landings on military flights. "I was a little shocked. I had to do something. So now, you know, small business, here we come," Randall says. She used the skills learned at EBV to turn her leatherworking hobby into a saddle business. "I've got the craft side. It's that whole business world, all that business stuff that I knew absolutely nothing about."
EBV teaches the crucial aspects of an M.B.A education in a month-long, practically focused online course that is followed by an on-campus immersion experience that lasts nine days, and is focused on the tools of new venture creation and growth. Haynie tells "60 Minutes," "You learn to become entrepreneurial in the context of serving in the military. The boss comes to you and says, 'Here's what we need you to accomplish. It's got to be done in two days. Figure it out.'"
The EBV program is designed to bridge the entrepreneurial skills and mindset developed through military service, into the vocation of business ownership in a civilian context.
The residency phase of the program begins with Haynie and the other instructors putting veterans into the entrepreneurial mode from the moment they arrive on campus. The program is intense; it begins each day at 7:30 a.m. The EBV is designed to both train and motivate. "I want to begin to help them change who they perceive they are … create a new narrative, that new vision … 'I am a business owner,'" Haynie tells Gupta. Watch an excerpt here.
Expanding Network
Since its inception at SU in 2007, the EBV program has expanded quickly to a network of eight universities across the United States, including UCLA, The Florida State University, Texas A&M, Purdue University, the University of Connecticut, Louisiana State University and Cornell University–with Syracuse University serving as national host. The Cornell University EBV program is specialized and focused on those veteran entrepreneurs interested in hospitality/food and beverage-related businesses.
So far, more than 600 have gone through the program, and more than 50 percent launch businesses within four months of completing the training. In 2009, the EBV program was named a "National Best Practice" for serving veterans and their families by the Secretary of the Army's Community Covenant Program.
In 2011, Inc. Magazine named the EBV program as one of the "10-Best" entrepreneurship programs in the United States. Many graduates have launched ventures that now have revenues in the millions of dollars, including a tech startup with $40 million in sales.
Currently, an estimated 20,000 people are leaving military service every month, and on one hand Haynie says about EBV: "You know, it's spitting in the wind. There's so much more we could do." However he also tells Gupta: "This is what I can do, and as far as I'm concerned, who better to live the American dream of business ownership than these men and women who have put on a uniform to defend that dream."