Exhibition at The Warehouse Explores Future of I-81 Downtown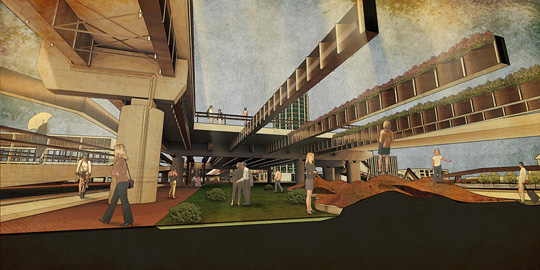 The School of Architecture and UPSTATE: a Center for Design, Research and Real Estate have put together "Alt-81," an exhibition of work by Syracuse University students exploring post-2017 possibilities for the I-81 corridor that runs through downtown Syracuse.
The exhibition will be held at The Warehouse, 350 W. Fayette St., Syracuse. An opening reception on May 20, from 2-6 p.m., is free and open to the public. The projects will be on display for passersby in The Warehouse windows on West Fayette Street through the end of June.
The exhibition is the result of two Syracuse University courses taught this spring. A joint research project, both courses addressed the question of what kind of development along the I-81 corridor would be best positioned to serve Syracuse and how the future of the viaduct can play a role in transforming the city.
A site of intense interest, the I-81 viaduct reaches the end of its functional life in 2017. New York State Department of Transportation officials are getting closer to deciding the future of this stretch of the expressway, including rebuilding the section of highway or replacing the elevated viaduct with a boulevard.
An open house hosted by the state Department of Transportation and the Syracuse Metropolitan Transportation Council is scheduled for May 21 at the Oncenter in Syracuse. Traffic studies and proposals will be presented.
The design studio led by Jonathan Solomon, associate dean at the School of Architecture, and Joe Sisko, assistant director of UPSTATE, involved six design teams testing opportunities for the corridor and adjacent sites. The studio included four workshops with the participation of city and state officials, experts on the viaduct, transportation planners, architects and urban designers. Projects for both the neighborhood and the upstate region, including retail, entertainment, open space and housing proposals were presented.
A real estate seminar taught by UPSTATE Director Marc Norman and research fellow Peggy Tully worked in parallel, engaging students from the School of Architecture and Whitman School of Management, tackling the issue of funding development in and around the corridor. Students looked at precedents, funding mechanisms, ownership structures and the redevelopment potential of the surrounding area.