Health & Society
Eating Healthy on a Budget
In Ruth Sullivan's kitchen, an easy, inexpensive, healthy meal is only a well-stocked pantry away. The Food Services dietitian keeps hers supplied with such basics as quinoa, brown rice, whole wheat pasta and sauces.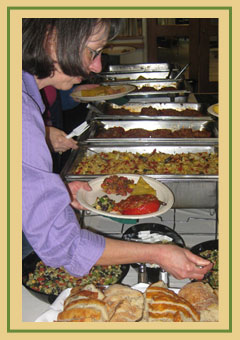 "One of the biggest things people forget about eating healthy is keeping a pantry filled with these staples," Sullivan says. "Last night, my family and I whipped together some lo mein with red peppers, broccoli and rice wine vinegar, all from the pantry. With a little bit of preparation and planning, you can just grab some whole wheat pasta from your cupboard and not have to run to McDonalds."
Sullivan shared many tips for eating and shopping healthy on a budget as part of a recent Human Resources Staff 2 Staff lunch and learn session in which she encouraged people to read labels, check pricing and be creative when it comes to food choices.
The session was part of the University Wellness Initiative's focus to improve the health and quality of life of the campus community. The event was held in partnership with Healthy Monday Syracuse, an initiative of the Lerner Center for Public Health Promotion in the Maxwell School of Citizenship and Public Affairs.
One of the Healthy Monday campaigns is Meatless Monday, which prompts people to think about forgoing meat one day a week. At the Staff 2 Staff session, held on a Monday, Healthy Monday Syracuse sponsored a tasty and varied meatless lunch, provided by SU Catering, with specialty salads and stuffed peppers for participants.
What's on your plate
Healthy eating starts with educating yourself about what is healthy and understanding the U.S. Department of Agriculture's recommendations for a balanced food plate, half of which should be filled with fruits and vegetables, Sullivan says. For more information, visit the "MyPlate" campaign.
"When I was a kid, protein was half the plate," Sullivan says. "Studies show that a vegan or vegetarian diet can be healthy if done correctly, but why not go meatless even once a week—it's cheaper and it's better for your heart."
SU has a large vegan and vegetarian population and Food Services doesn't just accommodate that diet by taking out meat, Sullivan says. "We have separate recipes that are full of beans, tofu and seitan [wheat gluten], the healthy non-meat sources," she says.
She recommends trying different grains, such as millet and buckwheat; nuts and seeds; and dried beans to supplement protein and add variety. The Internet also makes it easy to find simple recipes with the ingredients you have on hand.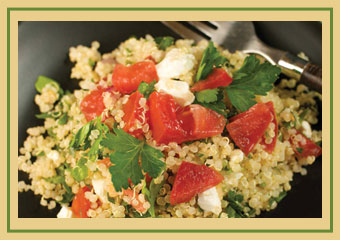 Plan accordingly
Before you head to the grocery store, make sure you have a specific list—and only purchase what's on that list. She suggests some ways to shop healthy and keep to a budget.
Don't go when you're hungry.
Shop when you have time to compare prices.
Buy seasonal.
Pay with cash.
Sullivan also recommends consumers pay attention to the grocery store and the enticements that may make you want to buy more than you need.  "Supermarkets hire people to design a store to make you spend more money," she says.
She points to the increasing size of grocery carts; the placement of dairy products in the back of the store to make you walk past other products; sample stations that slow you down and encourage you to buy things you don't need; and the lure of items at the checkout line—the most profitable area of the store.
Natural and organic
Shoppers may also want to pay attention to how the fruits and vegetables they purchase were cultivated. Even though there are no studies as to the long-term effects of foods treated with pesticides, Sullivan recommends that consumers review the Environmental Working Group's "Dirty Dozen/Clean Fifteen" guide to produce. The site lists fruits and vegetables that take up more or less pesticide residue, which can help consumers determine what produce they may want to buy as organic—or not treated with pesticides.
Once you get home with your groceries, it's important to understand food safe practices to ensure your food will keep until you're ready to eat it. "Americans waste on average $500 [per year] in food because they over prepared or didn't store it properly," Sullivan says. Some tips available from the FDA include the following:
Store apples in the refrigerator; leave tomatoes on the counter.
Date anything you store in your refrigerator or freezer.
Leave meat, fish and poultry in original wrapping before you're ready to use.
Keep fruits and vegetables separate; gases they produce can turn other produce.
Don't wash produce before you put it in the refrigerator; it will go bad quicker when it's wet.