Dean of Student Affairs Thomas V. Wolfe Named 14th President of Iliff School of Theology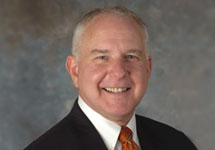 Thomas V. Wolfe, senior vice president and dean of Syracuse University's Division of Student Affairs, has been named the 14th president of Iliff School of Theology (Iliff), as announced today by the Iliff Board of Trustees. Wolfe, who has led the Division of Student Affairs since 2008, will depart the University and begin his new position at Iliff in Denver, Colo., on Aug. 1.
Founded in 1892, Iliff is a graduate theological school related to the United Methodist Church with a dynamic curriculum that combines academic rigor with real life experience. Recognizing the importance of dialogue as a critical component to facing many of the world's challenges, Iliff aims to prepare its students to inspire, lead and transform a spiritually and socially complex world, and deeply engage religious and cultural traditions. At the forefront of theological education for more than 100 years, Iliff has recently been recognized as one of the top 20 theological schools engaged in multi-faith education. The school's campus is adjacent to the University of Denver, and in 1981, the two institutions created a joint Ph.D. program leading to the Doctorate of Philosophy in Religious and Theological Studies.
"Tom Wolfe has been a powerful, positive force at SU in many dimensions," says SU Chancellor and President Nancy Cantor. "From his stewardship of Hendricks Chapel to his leadership of the Division of Student Affairs, he not only has made a difference in countless individual lives with his sage guidance, but he has led students, faculty and staff through thick and thin with characteristic wisdom and earnestness. The entire SU community has benefited as he brought all of those qualities to bear on our institutional decision making as a member of the Chancellor's Cabinet. SU simply will not be the same without him, but we are thrilled for him to have this opportunity to take his leadership to a new level."
"Syracuse University and the surrounding community have been a home to my family for more than 20 years," says Wolfe. "I am deeply honored and humbled to have had the opportunity to serve students, faculty and staff through the different roles I have been engaged in at the university. Each role has afforded me to the opportunity to be in relationship with our campus community in a way that has brought great meaning to my life. I feel a tremendous sense of gratitude for all I have learned and received, as well as given."
"My wife, Marilyn, and I will deeply miss the ways in which we are involved in the Syracuse community and the longtime friendships we have established. I speak on behalf of both of us when I say it has been a great privilege to be a part of this community," Wolfe adds.
Wolfe's tenure at Syracuse University spans more than two decades, beginning as the Interdenominational Protestant chaplain. In 1999, he was appointed as the fifth dean of Hendricks Chapel, where in addition to his administrative responsibilities, he facilitated countless University-wide forums and committees, and interacted with numerous students, faculty and staff, including as chair of the University's Wellness Task Force, co-chair of the Critical Incident Response Team and co-chair of Chancellor Cantor's inaugural steering committee in 2004-05. He helped escort the Hendricks Chapel Choir on a two-week performance tour of China in May 2005 and led 18 students on an interfaith study trip to Turkey in March 2007.
As dean of the chapel, Wolfe was widely respected as a collaborative leader and skilled facilitator. In June 2008, he was asked by Chancellor and President Cantor to serve as the interim senior vice president and dean of Student Affairs. He led Student Affairs through an in-depth self-study and created a new structural model in keeping with national best practices in student affairs, but tailored to fit the unique needs and culture of SU. Three working portfolios were created: Health and Wellness; Discovery and Engagement; and Inclusion, Community and Citizenship. His performance led to the wholehearted endorsement from the executive committee of SU's Board of Trustees to approve the recommendation by Chancellor and President Cantor for his appointment as senior vice president and dean of Student Affairs in October 2008.
As senior vice president and dean, Wolfe initiated a strategic thinking and planning process, which included a multi-phased, collaborative visioning approach. As a result, new mission and vision statements, core values, guiding principles and nine strategic priority areas were created to address the relevant issues in student affairs, including: access and inclusion; community engagement; academic partnership; and student leadership development. Campus-wide committees for each priority area has led to the implementation of campaigns, initiatives, programs and trainings that are actively engaging and shifting the campus culture, as well as addressing the needs of students today.
Wolfe has also been instrumental in the enhancement of student resources and the holistic health of students. He has continuously led conversations on campus with students, faculty, staff and administrators regarding diversity and inclusion. In 2012, he initiated the Senior Vice President's Council on Diversity and Inclusion—a consultative body to address the long-term needs of diversity and inclusion on the campus.
In addition to his role as senior vice president and dean, Wolfe served on the University Senate, as an adjunct faculty member in the School of Education higher education graduate program, and has taught an Intergroup Dialogue course within The College of Arts and Sciences.
Since 2010, he has served as a trustee at Lycoming College and is a member of the Executive Committee and the Strategic Issues and Assessment Committee, as well as chair of the Academic Policies Committee. Wolfe is also a trustee of the Upper New York Conference of the United Methodist Church. He has been an elected senator of the University Senate of the United Methodist Church since 2008, and served as secretary from 2008-2012. Wolfe will complete a presidential term from 2013-2016.
Among his civic interests, Wolfe served the Syracuse community as the former president and board member for InterFaith Works of CNY. He co-chaired the 2008, 2009 and 2010 White Ribbon Campaign for Vera House, where he served as board president and as a member. He was honored at the 2012 InterFaith Works Leadership Awards Dinner for his contributions to the engagement of interfaith and cross-cultural dialogue as a tool toward deeper understanding of social injustices and action for change.
Chancellor Cantor and senior University leaders are developing a transition plan for leadership of the Division of Student Affairs, and more details will be provided in the coming weeks.