Construction Begins on 'Cuse Challenge Course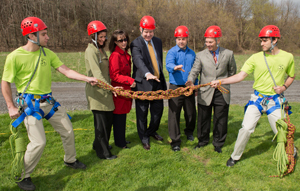 On April 30, the Department of Recreation Services within the Division of Student Affairs held a groundbreaking ceremony for the 'Cuse Challenge Course and Outdoor Education Center near the Inn Complete on Syracuse University's south campus. Senior Vice President and Dean of Student Affairs Thomas V. Wolfe and other key campus members spoke to the benefits of experiential education, the history of the project and the national trend in colleges and universities building challenge courses as a way to support student development. Construction will begin on the course this month and it will be complete by fall 2013.
As a part of the groundbreaking, Dean Wolfe and campus members held a climbing rope tied in a daisy chain while the students on each end of the rope pulled apart the knot. The daisy chain symbolizes the various sections of the planning, design, construction and implementation stages of the challenge course and outdoor education center. When pulled by the students, the knots unraveled, releasing the potential and true nature of the rope, much like the challenge course will soon be opened up for all to use, releasing its true nature and potential to the SU and surrounding community. Schematics of the course and photos of the elements were displayed in the Inn Complete.
The challenge course will consist of a series of high- and low-rope team-building elements, a dual zip-line and more. The course is designed to support campus and community groups, as well as individuals, in working together at accomplishing the various challenges presented in the course. The Outdoor Education Program within Recreation Services will create custom programs to meet the needs of each group's specific goals.
The outdoor education center will be a newly constructed building where participants can receive information, attend workshops and learn more about the many benefits of outdoor education as an experiential learning opportunity.
Campus and community members can follow the construction of the course on the blog: challengecourseblog.syr.edu. More specific details regarding the course, such as the elements, programs and pricing structure, will be posted throughout the spring and summer on the blog.
To schedule your group's outing for the fall 2013 and spring 2014 semesters, contact Scott Catucci, assistant director for outdoor education, at 315-443-0290 or sacatucc@syr.edu.
See more photos from the groundbreaking.