Media, Law & Policy
Committed to Service: With Nearly 600 Hours of Pro Bono Work, Gerlach Wins Pro Bono Service Award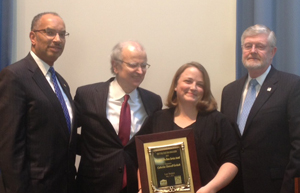 Catherine Sinnwell Gerlach, a third-year law student, won the 2013 New York State Bar Association's (NYSBA) President's Pro Bono Service Award for Law Students. The award is given annually to one law student in New York State to recognize an individual who has made an outstanding contribution to ensuring low-income New Yorkers have equal access to justice. NYSBA selected Gerlach for her work with the Volunteer Lawyer Project (VLP) of the Onondaga County Bar Association. Gerlach was recognized at a May 1 ceremony in Albany.
"I'm honored to receive this award," says Gerlach. "Pro Bono work has always been a passion of mine and is an important piece in striving for social justice and equal access to the legal system."
Gerlach recorded more than 595 hours of pro bono and community service hours during her time at the College of Law, spending much of that time assisting volunteer attorneys and representing tenants facing eviction and with the VLP Uncontested Divorce Clinic. She will graduate this month with an M.P.A. degree from the Maxwell School and a J.D. degree from the College of Law. Gerlach is the executive director of the Moot Court Honor Society, a member of the National Appellate Team and is also an associate editor of the Syracuse Journal of International Law and Commerce.
She served in the U.S. Peace Corps in Mongolia as a community economic development volunteer before coming to Syracuse University College of Law. She earned a B.A. in political science from Ripon College.
The Onondaga County Bar Association's Volunteer Lawyer Project promotes pro bono work in Onondaga County.