Class Marshal: Soljour Will Remember Life-Changing Experiences at SU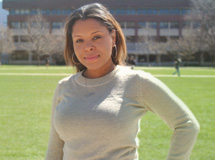 Kishauna Soljour will always have a favorite memory of her time at SU—the life-changing experiences she has had as president of SU's chapter of the NAACP and the development of her role as co-event coordinator of the Annual Lupus and Sickle Cell Anemia Week.
In the latter role, Soljour has taken on the role of running the banquet for the past three years, which includes a dinner, fashion show, student performers and a keynote speaker. This week strives to raise awareness and educate the Syracuse campus and community about the two diseases.
"Every year I see how this week of events unifies students from all walks of life that have all been affected by the diseases. I'm able to witness how this week serves as a healing process, and an affront to the silence that many victims feel enshrouded it. It is the time where students and the community unite as a family to raise awareness, raise money for further research and commit to overcoming the odds. It's a week of strength," Soljour says.
Her work on the event has been only one of her many activities that has made her an active member of the campus community. Her involvement has led to the honor of leading her class at Commencement as one of the two Class of 2013 class marshals. Soljour and her fellow class marshal, Stephanie Kranz, will carry the class banner to introduce SU's 159th Commencement ceremony.
Throughout her time at SU, Soljour has been a member of the Renée Crown University Honors Program, a member of the University Judicial Board, president of the SU chapter of the NAACP, a resident advisor, a Newhouse Ambassador and a member of Phi Beta Kappa, and she works for the Office of Multicultural Affairs.
Through her dedication to these activities and hard work in her classes, Soljour was awarded the title of class marshal, but also the title of a Golden Key International Honor Society Scholar. She was also named a Remembrance Scholar.
As one of the Class Marshals, Soljour met with senior-level University administrators to share and offer feedback on her SU experience, engaged in networking opportunities with alumni, represented the senior class at University-wide events, and helped select the Commencement speaker, New York Times columnist Nicholas Kristof. Soljour and Kranz also presented the awards at the annual Martin Luther King Jr. Unsung Heroes Awards ceremony.
Soljour believes that the experience of being Class Marshal has enhanced her time at SU. "People know you and who you are and that has allowed me to connect with so many of my classmates," she says. "There's always someone else who could have been chosen; you're not just representing yourself, you're representing your entire year."
Soljour is looking forward to Commencement, but it comes with bittersweet emotions. "The thing I'm going to miss the most is all of the people and the relationships I've been able to cultivate; I've met my best friends for life here [at SU]," she says.
Looking into the future, Soljour will be pursuing a Ph.D. in history from the Maxwell School of Citizenship and Public Affairs and also hopes to pursue a J.D. Her goal is to become a historian and lawyer. "I'm excited for the future," she said, "I have a lot to look forward to."