Class Marshal: Kranz Glad She Decided to Stay at SU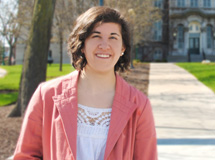 Stephanie Kranz, a mathematics and policy studies dual major from Buffalo, is one of two Class Marshals who will carry the banner to lead the Class of 2013 at SU's 159th Commencement exercises on Sunday, May 12. Among the most prestigious honors at SU, Class Marshals are distinguished individuals who have excelled during their time on campus and who exemplify the spirit of the senior class.
Although Kranz seriously considered transferring colleges during her freshman year, she instead decided to get more involved in campus life, meeting many new people along the way.  A field supervisor at Syracuse University Ambulance, Kranz is a member of the Jazz Ensemble, serves as an Orientation Leader for incoming freshmen and holds a job at the SU Library. She's also a Remembrance Scholar. In her spare time, she's training for a marathon.
"I feel really connected to the University and I've really tried to use my role as Class Marshal to give back to the students," Kranz says. "I also love community service and enjoy working with people and helping them."
Last year, Kranz created what she considers to be her most memorable event at SU—the Celebration of Life event during Remembrance Week 2012. A night of music, dance and poetry, the event put a time of sadness in a more positive light by celebrating the lives of the victims of Pan Am 103. It was especially memorable to Kranz, who recalled being able to connect with family members of the victims.
"One of the mothers of a student who was killed in the plane crash came up at the end of the event and told me it was the most enjoyable night she'd had in a long time," Kranz recalls. "It was really cool almost 25 years later to be able to connect with that family and bring joy to a woman who had to go through such a terrible experience."
Kranz has taken her love of community service and passion for math and and secured a job as a high school math teacher through Teach for America. "I'm excited; I really want to get more people to love math," she says. The school Kranz will be working at, the People's Preparatory Academy in Newark, N.J., encourages teachers to promote their alma mater, which goes hand in hand with another of Kranz's goals—to continue to give back and have an active role at SU after graduation.
"I think being a marshal has enhanced my experience at SU. It made me look forward to the end and bring a little more happiness to a time where I'm really sad about leaving. Just knowing that all of the work I have put in over the past four years has meant something to this school and has made a little bit of a change, it means so much to me," she says.
While she is looking forward to Commencement, Kranz shares that the thing she'll miss the most is all of the people she has met here at SU. "I've really grown to love this school. It's been such a transition and I owe it to the people I've met here and the things I've done to be able to say that."