12 Students Named University Scholars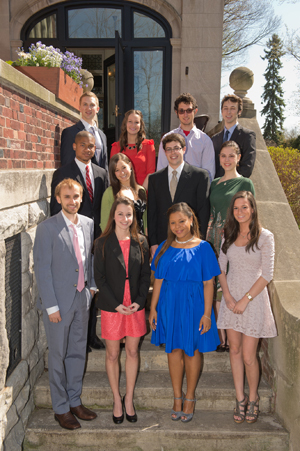 Twelve graduating seniors have been named Syracuse University Scholars, which is the highest undergraduate academic honor bestowed at the University.
University Scholars represent the entire SU graduating class at the May 12 Commencement ceremony. On April 25, the scholars took part in a reception at the Chancellor's Residence hosted by SU Chancellor and President Nancy Cantor, at which they received special medallions to be worn at Commencement.
The SU Scholars Selection Committee, a University-wide faculty committee, selects the 2013 scholars using criteria including coursework and academic achievement, creative work, a personal statement and a faculty letter of recommendation. Harriet N. Brown, chair of the selection committee and associate professor in the S.I. Newhouse School of Public Communications, says, "It's hard to understand just how much these students have achieved until you sit down with their portfolios and read through them. They're not just talented, smart and ambitious; they're also curious, compassionate and generous. Sitting on this committee and meeting these students makes me feel both a little intimidated and very hopeful for the future of the world."
The University Scholars are:
Ryan Paul Badman
Badman is graduating from The College of Arts and Sciences with a B.S. in physics and applied mathematics. He is an NSF fellowship winner, Goldwater Scholar, Astronaut Scholar, Marshall Scholarship Finalist, Remembrance Scholar and a Coronat Scholar. Badman started astrophysics research in high school under SU Professor Gianfranco Vidali. After entering SU, he completed multiple other research projects, including dark matter studies under Richard Schnee, statistical physics under Alan Middleton, working for the LHCb experiment for Steven Blusk and Marina Artuso and lattice quantum chromodynamics studies under Simon Catterall. Outside of SU, he has done an National Science Foundation Research Experience for Undergraduates at Cornell University under Jim Crittenden for synchrotron physics the summer of 2011 and at CERN in Geneva, Switzerland, through the University of Michigan for the ATLAS experiment under Elmar Ritsch in the summer of 2012. Next year, he will begin a physics Ph.D. program at Cornell University for particle physics. Outside of research, Badman has committed many hours of volunteer work to the Somali Bantu Refugee mentoring program through the SU International Young Scholars program. He has also served as the Syracuse Society of Physics Students President since 2010 and as an occasional science fair judge.
Jaime Bernstein
Bernstein is a double major in chemistry and Spanish in Arts and Sciences. She is a Remembrance Scholar, Orenstein Scholar and Crown Scholar and a member of Phi Beta Kappa and the Renée Crown University Honors Program. Over the last three years, she has conducted research on the oral delivery of peptides and proteins in Professor Doyle's laboratory and is now a published author. Bernstein is also a field supervisor for Syracuse University Ambulance and a sister of Kappa Kappa Gamma. Next year, Bernstein plans to pursue a career in medicine at the Weill Cornell Medical College of Cornell University in New York City.
Ian B. Carlino
Carlino is a magazine journalism, French and francophone studies, and political science major in the Newhouse School and Arts and Sciences. He's also in the Renée Crown University Honors Program. His Honors Capstone project is an 1,100-line French-to-English translation of Molière's "Le Misanthrope." Carlino currently works as managing editor of The Student Voice, a student-run biweekly newsmagazine. This summer, he will work as a Dow Jones News Fund copyediting intern with The New York Times at its office in Gainesville, Fla. He hopes to find work as an editor for a magazine or publishing company in New York City or Washington, D.C.
David James Carpenter
Carpenter is completing a double major in saxophone performance and biology in the College of Visual and Performing Arts and Arts and Sciences with research distinction. His major accomplishments include a variety of studio recording projects and conducting research in surgery, critical care and neurology at SUNY Upstate Medical University. Carpenter will be attending Duke University School of Medicine this fall.
Eric Davis
Davis will graduate from Arts and Sciences with a degree in biology and a minor in psychology. He has served on the University's tenure and promotion committee. Under his leadership and on his initiative, a Syracuse University chapter of the international medical fraternity, Phi Delta Epsilon, was founded to serve the Syracuse community. As a result, members of the fraternity have performed tutoring services on campus and in local hospitals; funds were raised for Upstate Medical's new cancer center and a community education program is in process to bring awareness to the community regarding relevant and current medical concerns. Davis conducted physical chemistry research that was published. During summers, he conducted research in the neuroscience lab of Nobel Laureate Richard Axel at Columbia University. Davis will commence his medical studies in the fall at Harvard Medical School.
Christopher DePalma
DePalma will graduate from the School of Architecutre. Of particular significance is a study abroad program in Ghana, where he spent five weeks researching the sustainable design of health care delivery in a country radically different from that of the U.S. This experience influenced his founding of the Freedom by Design program at SU, where he was able to apply the lessons learned about the issues of social justice through the design and construction of handicap ramps for people in the Syracuse community, promoting accessibility and dignity on a smaller scale. He then applied these small-community lessons to the scale of a mega-project during his dual internship of architecture and development working on the World Trade Center redevelopment site in Manhattan. DePalma hopes to continue to advance his creative background through strongly advocating for the power of design in tackling many of the contemporary social and economic issues facing the global community.
Karin Dolinsek
Dolinsek, a native of Slovenia, earned her degree in public relations and international relations from the Newhouse School and Arts and Sciences in December 2012. During the course of her studies, Dolinsek developed an interest in public health, which led her to pursue several internships that focused on global health. She spent a semester in Washington, D.C., and interned with The Millennium Project, SUNY Upstate Medical University, and worked as a writer for the World Health Organization. While her senior capstone study explored Turkish foreign policy, much of her academic work focused on global health education, communication and public policy. Dolinsek was awarded the Professor Michael D. Schneider scholarship, the Academic Award for Exceptional Work in Political Science, and she was honored as a Newhouse Scholar. In the future, Dolinsek aspires to work in a capacity allows her to engage people and inspire change, and hopes to pursue a master of public health degree.
Keith Todd Holmes
Holmes will graduate from the L.C. Smith College of Engineering with a degree in mechanical engineering. He has been hired by GE Energy Management in the Operations Management Leadership Development Program.
Anna Rachel Kahkoska
Kahkoska will graduate from Arts and Sciences with a biochemistry major and a minor in anthropology. She has conducted research in biological chemistry in the Doyle laboratory and has been listed as second author on two publications from this research. She was awarded a Goldwater Scholarship Honorable Mention based on her work with Professor Doyle. She also volunteers with the clinical research team at the Joslin Diabetes Center, and has traveled to Dublin, Ireland, and Seattle over the last two summers to pursue other research opportunities. She has been named a Coronat Scholar, an iLEARN Scholar, a Remembrance Scholar and a Wise-Marcus Scholar in the Renée Crown University Honors Program. She has received two department awards from the Department of Chemistry and the 2010 Wetherbee Phelps Writing Award. Kahkoska plans to pursue an M.D./Ph.D., matriculating in the fall of 2013.
Jaimee Robertson
Robertson will graduate from Arts and Sciences and LCS with a double mathematics and chemical engineering major. She spent the summer of 2012 at the University of Alabama, where she participated in a Research Experience for Undergraduates Program. Currently, Robertson is doing research in the Syracuse Biomaterials Institute (SBI) under the guidance of Patrick Mather. Next year, she plans to continue her education at SU, where she will be pursuing her master's degree and continuing her research at SBI.
Dana Senderoff
Senderoff will graduate from Arts and Sciences and the David B. Falk College of Sport and Human Dynamics with a B.S. in biology and a minor in nutrition. She will be pursuing her dream of becoming a doctor this fall at the University of Miami Miller School of Medicine. Senderoff was a member of Syracuse University Ambulance and the sorority Kappa Kappa Gamma, and spent three years researching egg cell development in the Pepling lab.
Kishauna Soljour
Soljour is a double major in television, radio and film in the Newhouse School and African American studies in Arts and Sciences with a minor in strategic management in the Martin J. Whitman School of Management. She is a Remembrance Scholar, a member of Phi Beta Kappa, the Golden Key International Honour Society, a Ronald E. McNair Scholar and a Newhouse Scholar. She will also serve as class marshal for Commencement. Soljour served as the president of Syracuse University chapter of the NAACP, a member of Syracuse University Judicial Board, a member of the Renée Crown University Honors Program Advisory Board and a Newhouse Peer Advisor. She studied abroad in Paris and Mumbai, and also participated in the Winston Fisher Seminar in New York City. As a participant in the Honors Program and African American Studies Department Distinction program, she is conducting research on African immigrant males and their acculturation into Parisian society. After graduation, she is planning on continuing her studies in graduate school within the field of history and cultural anthropology.
SUNY ESF Departmental Scholars
Departmental scholars for SUNY ESF are Graham W. Heberlig, chemistry; Martin Holdrege, environmental and forest biology; Nathan J. Sleight, environmental science; Michelle R. Meyer, environmental studies; Rachael L. Weiter, environmental resources engineering; Lauren K. Worrell, forest and natural resources management; Zachary M. Barker, landscape architecture; Aislinn R. Brackman, paper and bioprocess engineering; and Marc A. Delaney, sustainable construction management and engineering.