Women's Choir Honors 125 Years of Women in Song at SU with Retrospective Concert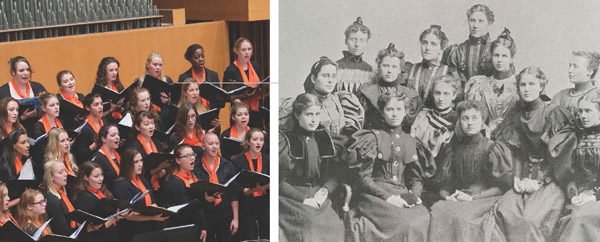 The Syracuse University Women's Choir will present a special historical retrospective concert to celebrate the long tradition of women's singing at SU. "Honoring 125 Years of Women in Song at Syracuse University" will be performed on Saturday, April 20, at 8 p.m. in the Rose and Jules R. Setnor Auditorium, Crouse College. The concert is free and open to the public.
The SU Women's Choir appears under the direction of Barbara M. Tagg, faculty member in the Rose, Jules R. and Stanford S. Setnor School of Music in the College of Visual and Performing Arts. The concert will feature Gabriel DiMartino, Lon Beery, Sabine Krantz and Kola Owolabi, among others. The repertoire will include works by Britten, Beethoven, Brahms, Berwald, Bacon and Johnson. A mandolin, banjo and guitar ensemble will also be featured, reflecting a tradition of the 1920s, among other SU traditions. Guest narrators will include Ellen Bacon, Will Headlee, Setnor School of Music faculty and SU Women's Choir members and alumnae.
This collaborative concert will include a presentation of slides, photos and facts from the past 125 years, based on research from SU Archives and prepared by Tagg and Setnor graduate student Lauren Estes.
The SU Women's Choir includes both students who are  music majors from the Setnor School of Music as well as students from a variety of other majors across campus.
Free and accessible parking for the concert is available in the Q-1 lot; additional parking is available in the Irving Garage. Campus parking availability is subject to change; call 315-443-2191 for current information.
For more information about the concert, contact Tagg at 315-443-5750 or btagg@syr.edu.