WISE Symposium Draws 1,000 Women from the Business Community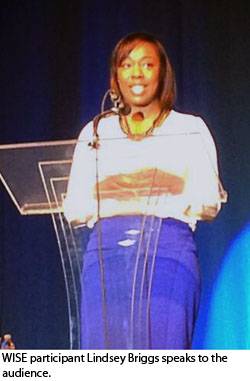 If the Twitter stream from #WISE2013 is any indication, the WISE Symposium held on April 16 at the Oncenter in downtown Syracuse was a huge success.
Hosted by the Women Igniting the Spirit of Entrepreneurship Center (WISE) Women's Business Center and in its 11th year, the event attracted 1,000 attendees from as far away as Georgia.
The primarily female audience—though there was a healthy handful of men in the crowd—included some of the most active members of the business community with a focus on inclusiveness. There were people from corporate settings to aspiring entrepreneurs and start-up owners to intrapreneurs and investors.
The speaker list was stacked with influential and successful women from around the nation, who hit on such topics as growing a business, effective business pitching, sales and using social media for an organization.
One of the discussion highlights was the keynote talk. Pam Slim, a longtime entrepreneur from Phoenix, Ariz., spoke to the importance of crafting your own work. "Imagine many decades from now when looking back at everything you've created … I hope you're very proud not only of what you've created, but also how you've created it," she urged.
Farah Jadran, managing editor of Syracuse Women's Magazine and the WISE Symposium 2013 emcee, summed up the impressions of many in the crowd. "I could feel the energy in every room I was in. It felt incredible when I was on that stage, introducing knockout women like Joanne Lenweaver, Joanne Mahoney, Carrie Luber, Nell Merlino and Robin Chase," she said.