Whitman M.B.A.s Win Annual Duke MBA Games for Second Year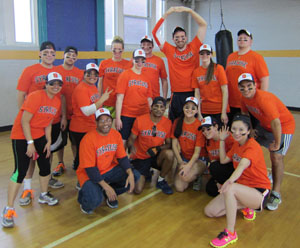 Fifteen M.B.A. students from the Whitman School of Management took first place at the annual Duke MBA Games at Duke University in Durham, N.C., repeating their 2012 victory.
The annual competition, which raises money for Special Olympics, culminates in a weekend-long competition among teams from the country's top M.B.A. programs. Rice University and Purdue University (Krannert) placed second and third, respectively.
The Whitman team raised more than $6,500 for Special Olympics and competed in such events as tug of war, soccer relay, dance competition, bean bag toss and more alongside Special Olympics athletes. The event resulted in more than $72,000 in funds donated to Special Olympics.
Other schools competing included Vanderbilt University (Owen), University of Virginia (Darden), Carnegie Mellon University (Tepper), Dartmouth College (Tuck), Columbia University, Penn State University (Smeal), University of Maryland (Smith), Babson College and Duke University (Fuqua).
"We're very proud that a team of full-time M.B.A. students from Whitman won the Duke M.B.A. Games for a second year in a row," says Amy McHale, director of experiential learning at Whitman. "Not only did they excel in the various challenges of the games, but again were among the top fundraisers with proceeds going to the Special Olympics of North Carolina. The Duke MBA Games gives our students an opportunity to network with students from several top-ranked programs and share ideas about student organizations, case interview preparation and more."
The Whitman team was made up of both first-year and second-year M.B.A.s. They were:
Weston Ijames G'13 (team leader)
Eliza Spencer G'13
Stephen Neff G'13
Rebecca Schied G'13
Joshua Schultz G'13
Asel Otunchieva G'13
Shayna Blumenthal G'13
Michelle Le G'13
Jack Weigle G'14
Sarah McGowan G'14
Atul Gupta G'14
Aayushi Chiripal G'14
Justin Cuddeback G'14
Siddhi Pradhan G'14
Alex Gilbert G'14
Carlos Ferrari G'14