What's Being Built on South: An Outdoor Challenge Course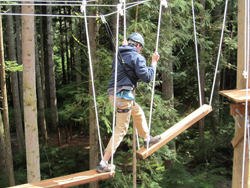 The word is out on the Division of Student Affairs campaign asking the question "What's Being Built on South?" The Department of Recreation Services is building an outdoor challenge course on South Campus with an outdoor education center, which will serve as a place to welcome groups and host workshops.
Construction will begin this spring and the course will be ready for use this fall. The challenge course will be open to SU students, faculty and staff, as well as the surrounding community—a unique aspect to this on-campus facility.
"This facility will allow for opportunities that cultivate teamwork, leadership, skill development and community-building in a unique out-of-the-classroom learning environment," says Joseph Lore, director of Recreation Services.
The new challenge course will consist of a series of high- and low-rope team-building elements, a dual zip-line and more. The course is designed to support campus and community groups, as well as individuals, in working together at accomplishing the various challenges presented in the course. The outdoor education program within Recreation Services will create custom programs to meet the needs of each group's specific goals.
The outdoor education center will be a newly constructed building where participants can receive information, attend workshops and learn more about the many benefits of outdoor education as an experiential learning opportunity.
Students, faculty, staff and community members are invited to utilize the challenge course as an opportunity to engage their office, department, student organization, corporation, etc. in a way that leads to:
leadership development
team building
personal growth
group support
pure fun
"The challenge course will provide SU students and surrounding community organizations and businesses an opportunity to immerse their designated group in this unique experience of working together to solve a series of team-oriented tasks," says Scott Catucci, assistant director for Outdoor Education. "By customizing each program to the needs of the group, we are able to help transfer the learning occurring on the challenge course to the participants' 'real-life' situations."
Campus and community members can follow the construction of the course on the blog: challengecourseblog.syr.edu. More specific details regarding the course, such as the elements, programs and pricing structure, will be posted throughout the spring and summer on the blog.
To schedule your group's outing for the fall 2013 and spring 2014 semesters, contact Catucci at 315-443-0290 or sacatucc@syr.edu.