VPA Students Named Semi-Finalists in Design Museum Boston Street Seats Challenge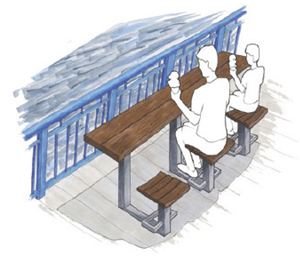 A bench design by two second-year industrial and interaction design majors in the College of Visual and Performing Arts was named one of 20 semi-finalist winners in Design Museum Boston's Street Seats International Design Challenge. Ryan Pierson and Sally Zheng's "Park Bar" design was chosen by a panel of 14 experts and design thought leaders for best meeting the criteria of innovation, durability, sustainability, aesthetics and comfort.
Individuals and teams from around the world were invited to design an iconic bench, or "street seat," for the Fort Point Channel in South Boston's up-and-coming Innovation District. The goal of the challenge is to improve the livability of this burgeoning urban area using design, while being socially and environmentally conscious.
Pierson and Zheng's Park Bar brings social benefits of the traditional bar to the outdoors. The design uses recycled aluminum and reclaimed wood to create a bench with a usable work surface. To see a video about the Park Bar, visit designmuseumboston.org/streetseats.
Pierson and Zheng were in class when the museum tweeted the names of the semi-finalists.
"We were ecstatic, and you could say we had some trouble focusing for the rest of the class," says Zheng. "As soon as it ended we called our family and friends to share the good news. This has been an amazing opportunity; we're learning a lot and challenging ourselves."
The semi-finalists receive a grant from Design Museum Boston and the Street Seats sponsors to fabricate their full-scale bench in preparation for the April 27 Street Seats Opening Celebrations, when the 20 winners will be on view outside along the Fort Point Channel. At that time, three grand prize winners will be selected and will receive cash prizes. The seats will remain at Fort Point Channel until October.