Tickets on Sale for April 10 presentation of Meryl Tankard's 'The Oracle'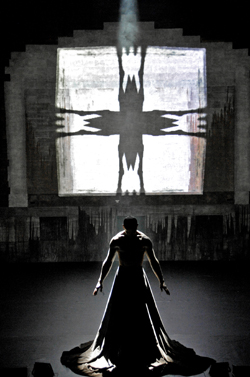 In celebration of the 100th anniversary of Igor Stravinsky's searing 1913 ballet score "The Rite of Spring," Syracuse University Arts Engage will present "The Oracle," conceived and directed by prominent Australian choreographer Meryl Tankard, on Wednesday, April 10, at 7:30 p.m. in Goldstein Auditorium in the Hildegarde and J. Myer Schine Student Center.
The performance is part of a national tour of "The Oracle," after premiering in the United States in early February in New Jersey and New York. The project has been assisted by the Australian government through the Australia Council, its arts funding and advisory body.
Tickets for the SU performance are $20 for the general public, $10 for seniors and $5 for SU students with valid I.D., and may be purchased at the Schine Box Office, 315-443-4517. Call Arts Engage at 315-443-0296 or visit www.artsengage.syr.edu for more information on tickets.
Please note: The performance does contain a few brief moments of nudity.
The performance features Australian dancer Paul White, who co-choreographed the piece with Tankard. The video and set designer is Régis Lansac.
Tankard, White and Lansac participated in a residency at SU Feb. 18-23, where they engaged a group of interdisciplinary students to work in teams to re-envision "Rite of Spring." At the conclusion of the week, the independent team pieces were put together and performed on Feb. 23.
Visit www.meryltankard.com to learn more about Tankard and her work.
In a February interview with the Huffington Post, White said "The Oracle" is "about the forces of nature, man's strengths and vulnerabilities. It's about the 'Oracle' foreseeing inevitable futures and about the sacredness of the earth.
"The public revolted against the original work, yet so many years later we see the huge influence the piece has had on history," White says. "For me, dancing the piece is an offering in homage to the history that spawned from (Vaslav) Nijinsky's original work." The full text of White's interview and performance photos can be found at www.huffingtonpost.com/2013/02/05/choreographer-paul-white-dancer-interview-the-oracle_n_2616081.html.
National Public Radio's Performance Today identified "Rite of Spring" as one of its "Milestones of the Millennium."
"Almost no musical work has had such a powerful influence or evoked as much controversy as Igor Stravinsky's ballet score 'The Rite of Spring.' The work's premiere on May 29, 1913, at the Théatre des Champs-Elysées in Paris, was scandalous," according to NPR. "In addition to the outrageous costumes, unusual choreography and bizarre story of pagan sacrifice, Stravinsky's musical innovations tested the patience of the audience to the fullest."
Tankard's "The Oracle" revisions "The Rite of Spring"—in new directions, and for 21st-century audiences.