The Ripple Effect: Phanstiel Talks about Giving
Howie Phanstiel '70, G'71 shares his path to a greater understanding of giving back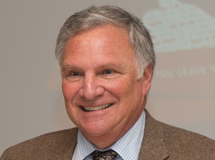 A few years ago, Howie Phanstiel '70, G'71 was sidelined by a torn Achilles tendon that left him in a cast for several months. The injury and challenging recovery were made less difficult by what it revealed to him about the generosity of others and how it affected his own personal growth.
"For the first time in my adult life I was totally dependent on others," said Phanstiel, who was invited to speak Friday, April 19, in the Life Sciences Complex for the 2013 Phanstiel Lecture, an annual event as part of Philanthropy Week. "What amazed me was how kind and understanding and empathetic total strangers were toward me." They opened doors and helped him navigate, but also shared encouraging stories and their best wishes at a time when he had also been through another personal situation that had left him angry and depressed.
"Through my recovery and from the kindness shown to me, I came away positive about what is still possible," Phanstiel said. "This is because I believe good acts often beget more good acts. A small ripple in the water from a pebble you skimmed can grow eventually into a tidal wave."
This ripple effect of giving is a fundamental idea to Phanstiel and his wife, Louise, both of whom played a large role in the creation of Philanthropy Week. In 2010, the couple made a $20 million gift to Syracuse University to create the Phanstiel Scholars program, which provides financial resources for middle-class students to attend SU. The Phanstiel Scholars are expected to pay forward their time, treasure and talent to make the world a better place. The scholars also serve as hosts during Philanthropy Week, celebrating the importance of philanthropy to society and the University.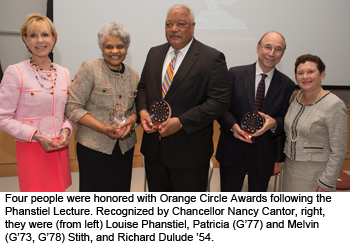 Louise Phanstiel, along with Richard Dulude '54 and Melvin (G'73, G'78) and Patricia (G'77) Stith, was recognized following the lecture as a recipient of the Orange Circle Award, presented to altruistic members of the SU community who have done extraordinary things in the service of others. The awards are another marquee event of Philanthropy Week.
During his speech, which was at times humorous and at all times heartfelt, Howie Phanstiel, who is a member of the University Board of Trustees, shared the factors that contributed to what he called his "personal evolution from a cheap bastard to a major donor."
Volunteering and thoughtful giving had not been a major part of his early life, but he always thought back to his mother's words. "My mom always taught me that my purpose in life was to make the world a better place," he said.
He came to understand philanthropy in a broader context beyond just the act of donating funds. "I now feel that philanthropy has as its underpinning a humanistic principal that says we should have an attitude or way of life that is centered by human interests," Phanstiel said.
As he began to give in more meaningful ways, he also saw the impact of the multiplying effect.
At a 2008 trustee dinner, for example, Phanstiel made some impromptu remarks encouraging others to help students and families who might be feeling the effects of the financial crisis. As a result, the University created the Syracuse Responds program, a fundraising initiative to help students with urgent needs.
Phanstiel explained that with a gift from Board of Trustees member John Chapple '75, Syracuse Responds and its message caught fire, inspiring many to give, including a recent graduate who contributed $200 on a tight budget because she understood the importance of students being able to stay in school.
He also shared how he and Louise had given to his wife's former school, Shenandoah Valley Academy, to help with dorm renovations. In turn, a matching gift was secured, students and faculty pitched in with the renovations and students established a Phanstiel Hall constitution, pledging to follow and study certain character traits, including honesty, integrity and compassion. "I realized I finally did something to make the world a better place, just as my mom had asked," Howie Phanstiel said.
Phanstiel also credited both his friend, the late actor Paul Newman, for encouraging him to give back, and his wife, Louise, for inspiring him with her caring and thoughtfulness. "She's the best source of many of our philanthropic ideas, including the Phanstiel Scholar program. She's opened up my heart," Phanstiel said.
Louise Phanstiel grew up knowing the impact of giving through her grandmother's simple kindnesses in her rural community, which led to her understanding of how she could contribute. "Howie and I are hard-wired problem solvers," Louise Phanstiel said. "If you're wired that way and you have an open heart, you can see plenty of problems that need to be solved."
See social media coverage of Howie Phanstiel's address and highlights of the Orange Circle Award ceremony on Storify.